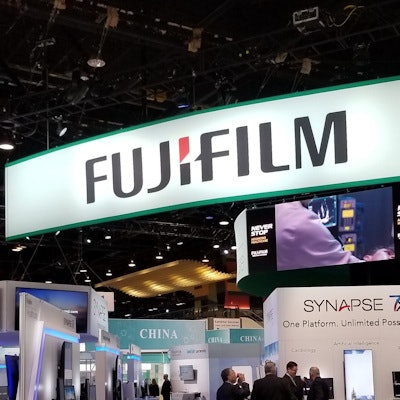 Fujifilm Healthcare will be releasing its Arietta 750 DeepInsight ultrasound system this month.
Showcased recently at ECR 2023 in Vienna, Arietta 750 DeepInsight is based on the vendor's flagship Arietta 850 DeepInsight scanner, according to Fujifilm. The system features artificial intelligence (AI)-based image processing techniques as well as the company's eFocusing full-focus function aimed at providing homogenous image quality and improving sensitivity for both near- and far-field imaging. Another tool, Carving Imaging, is designed to enhance tissue clarity, Fujifilm said.
The company also highlighted the ergonomic design of the scanner's monitor arm and console. Furthermore, Arietta 850 includes workflow capabilities such as Guide View for displaying reference images for each step of the procedure and Protocol Assistant for preregistering procedures and parameters, Fujifilm said.
Arietta 750 also supports a range of clinical applications, including abdominal/superficial and cardiac imaging. Other software includes Fujifilm's Real-time Tissue Elastography and Shear Wave Measurement functions, Real-Time Virtual Sonography, Attenuation Measurement, 2D Tissue Tracking, AI-powered Dual Gate Doppler for observing Doppler waveforms from two different locations during the same heartbeat, and R-R Navigation for patients with arrhythmia.