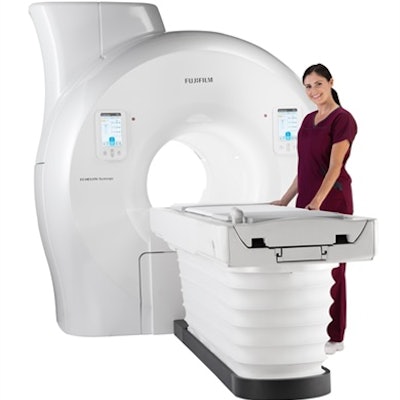 Fujifilm Healthcare has received U.S. Food and Drug Administration 510(k) clearance for its new Echelon Synergy MRI scanner.
The 1.5-tesla scanner combines architecture and the company's Synergy DLR deep-learning reconstruction technology to enhance the sharpness of images and acquire scans faster, the company said. In addition, the Echelon Synergy scanner includes AutoExam One Touch, which provides technologists with an automated workflow for brain and knee exams. AutoExam One Touch positions patients and starts the exam after the scan room door is closed, to speed up technologist workflow and exam times for patients.
Also, the scanner features a large bore and wide patient table to enhance patient comfort, Fujifilm said. The wide, 70-cm bore and 62-cm-wide table can accommodate patients up to 550 lb, while the system's SoftSound gradient software reduces acoustic noise.
Fujifilm also noted that antibacterial coating is embedded in the system's high-touch surfaces to help suppress the growth of various types of bacteria, microorganisms, and mold on the surfaces.