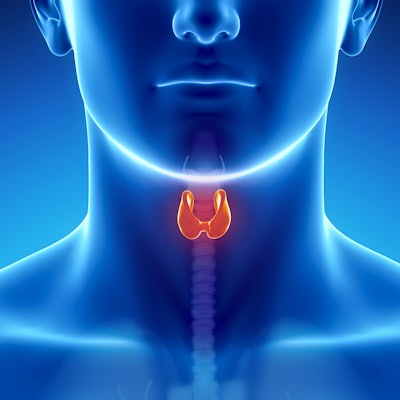 Ultrasound or sestamibi scans followed by CT may be the way to go for localizing target areas in patients undergoing reoperative parathyroidectomy, findings published April 12 in the American Journal of Surgery.
Researchers led by Wajid Amjad from the University of Pennsylvania in Philadelphia found that ultrasound and sestamibi had similar positive predictive values while CT showed superior sensitivity. They also recommended that parathyroid venous sampling should be considered if non-invasive imaging fails to localize the targets.
Surgery is the only curative method for treating primary hyperparathyroidism (PHPT), a common endocrine disorder where the parathyroid hormone over-secretes from one or more parathyroid glands. Adjunctive imaging may help to identify surgical targets. Previous studies have compared the performance of ultrasound, sestamibi, 4D CT, and nuclear imaging in identifying recurrent or residual parathyroid tissue.
Amjad and colleagues wanted to describe use patterns of noninvasive and invasive localization techniques in patients with recurrent and persistent primary hyperparathyroidism. They collected retrospective data from 181 patients who underwent reoperative parathyroidectomy. Sestamibi scans were used in 89.5% of the cases, followed by ultrasound at 75.7%. However, CT had the highest rate of localization at 70.8%, followed by sestamibi and ultrasound. Additionally, parathyroid venous sampling was performed on 25 patients and localized in 96% of cases.
The team found that while ultrasound and sestamibi had the highest positive predictive values of the modalities studied, CT had the highest sensitivity.
Comparison between imaging modalities for parathyroidectomy target localization
Ultrasound
Sestamibi
CT
Sensitivity
38%
49%
58%
Specificity
22%
17%
17%
Positive predictive value
62%
62%
41%
Negative predictive value
10%
10%
29%
The researchers also reported that parathyroid venous sampling had 95% sensitivity and 95% positive predictive value for predicting the correct side of abnormal parathyroid tissue.
They also recommended a sequential approach for patients undergoing evaluation for reoperative parathyroidectomy. This includes initial imaging consisting of high-specificity evaluation with neck ultrasound and parathyroid scan, preferably sestamibi SPECT/CT. If these do not localize successfully, high-sensitivity 4D CT should be used, they added.
"Although ultrasound has significant user dependence and low sensitivity, ultrasound may have particular utility as a screening study, due to the low cost, absence of radiation exposure, and ability to be performed by the operative surgeon in a clinic-based setting," the team wrote.
However, if all else fails, the researchers suggested that parathyroid venous sampling should be considered.