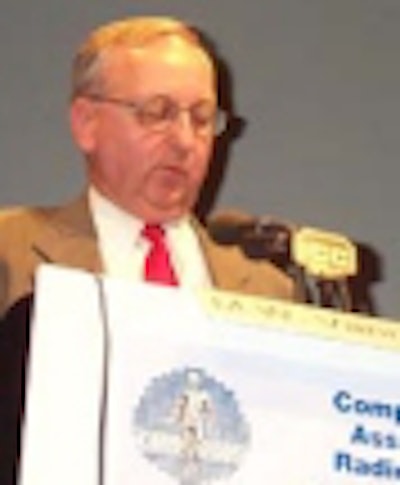 "What can't be cured with medicaments is cured with the knife, and what the knife cannot cure is cured with the searing iron, and what this cannot cure must be considered incurable."

-- Hippocrates
BERLIN - Even as technology continues to blur the lines between medical specialties, the practice known today as interventional radiology is destined to play a central role in medicine's future.
Future multimodality image-guided operating systems will bear little resemblance to the interventional radiology practices of today, of course. But their core function -- combining minimally invasive diagnosis and therapy in an effective, time- and cost-efficient manner -- will not change.
In Wednesday's opening session of the 19th International Congress of Computer Assisted Radiology and Surgery (CARS), Dr. Michael Vannier set forth his vision of the interventional suite of the future, and touched on the powerful forces shaping its development.
"Medicine is interventional -- fundamentally and intrinsically," said Vannier, who is a professor of radiology at the University of Chicago and president of the International Society for Computer Aided Surgery (ISCAS) that shares a mission, and the conference program, with CARS.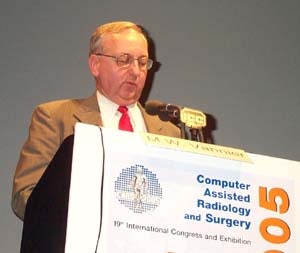 Dr. Michael Vannier, professor of radiology at the University of Chicago, opened the 19th International Congress of Computer Assisted Radiology and Surgery.
A climate of change
From Hippocrates to today's interventionalists, physicians throughout history have seen the value of the rapid diagnosis and intervention that today's technologies are enabling, Vannier said. Central to today's diagnosis and treatment paradigm is imaging, which is well understood and accepted by the public, and a common entry point into the healthcare system. Technology is also doing its part to reshape and often eliminate the dividing lines between medical practices and practitioners, he said.
"Those kinds of distinctions, about what your specialty is and what services you provide, are becoming indistinct," Vannier said. "Procedures are offered by radiologists that used to be offered by surgeons. Now there are combination therapies including chemoradiotherapy and others, where the distinctions are blurred."
To be sure, technology's fast-paced creation and elimination of procedures is often disruptive. Cardiac surgeons trained in coronary artery bypass surgery might find much of their work taken over by interventional cardiologists, who can take the patient to the cath lab and perform balloon angioplasty. CT is taking over angiography procedures, even in the emergency setting. Virtual colonoscopy may someday be tasked with the lion's share of colorectal cancer screening.
In other cases, technology paves the way to new and highly complex surgeries that can only be performed by teams of physicians from different specialties, Vannier said. Witness a complex tumor surgery or the separation of conjoined twins. Imaging is a common thread. In fact, every stage of oncology, from diagnosis to treatment to follow-up, requires it.
"Interventional medicine is very disruptive to hospitals and to healthcare organizations," Vannier said. "There are simply so many technologies that it's not realistic to think that a single organization can ... offer state-of-the-art services in every one of these areas." So every institution needs to focus and specialize to use its scarce resources judiciously, he said.
Corporate players have taken note, and are responding with their own strategies to claim a stake in the increasingly broad and complex marketplace for technology. Among many recent examples, GE Healthcare bought bioimaging developer Amersham of Chalfont St. Giles, U.K., in an effort to expand its base of available technologies, Vannier said.
But all of these trends, while individually complex, coalesce into a few relatively straightforward goals: the ability to provide earlier detection and faster, better treatment at a reasonable cost. Achieving these goals requires strategies for developing the infrastructure to support the new treatment paradigms, Vannier said.
Digitization and distribution of imaging data are two important elements in the strategy. Another is to invest in minimally invasive therapies -- treatments that reduce morbidity and require less time in the hospital. The third strategy is to prevent and predict disease at an earlier stage using a variety of imaging and nonimaging tests, and to use advanced technologies to better predict who is likely to develop certain diseases and who is not.
Coming to an operating theater near you
Many institutions are working hard to combine these strategies into workable models, Vannier said. Among them, Boston's Massachusetts General Hospital has a center for minimally invasive therapies that is working on the operating room of the future.
"They have a very deliberate process to both develop the technologies, and then clinically validate them in a real environment and to give guidance that is central to the thinking of many" in the field, he said.
At the University of Washington School of Medicine in St. Louis, Professor of Surgery Dr. Richard Satava has defined several intrinsic elements of the operating room of the future, including imaging, robotics, and interactive displays and instruments, Vannier said.
Dr. Ferenc Jolesz from Brigham and Women's Hospital in Boston has been a visionary in the field with his group's development of an image-guided therapy program, Vannier said. The intraoperative MRI, with its double-doughnut design, features intraoperative viewing and important innovations in 3D navigation in the clinical setting. The B&W group has also been very innovative in the development of MRI-guided cryoablative therapies, and MRI-guided focused ultrasound technology built into the scanner table.
"Many of us can do breast imaging ... but what's added is the ability to target that lesion, and thermally ablate it percutaneously using focused ultrasound," he said.
The same technology can be used to treat uterine fibroids, again noninvasively, inside the scanner. Focused ultrasound has even been used to ablate brain tumors. Drugs or gene therapy agents can be administered systemically prior to focused ultrasound to manipulate the treatment in still more ways. Focused ultrasound can be used to occlude blood vessels, sparing invasive surgery or embolization, Vannier said.
More recently, Brigham and Women's has been cooperating with Cambridge, MA-based CIMIT to develop an advanced multimodality image-guided operating system (AMIGO) that is nearly ready to open as an OR, Vannier said. AMIGO combines state-of-the-art imaging systems (3-tesla MRI, PET/CT, fluoroscopy, ultrasound, and optical imaging) designed to work together using advanced information technology within the operating suite.
"This type of imaging for surgery touches virtually all the surgical subspecialties," and is an important test ground for the development of other new technologies as well, he said. And including several imaging modalities enables new procedures that would not otherwise be possible, offering real outcome benefits for the patient.
Many other technologies in development have breakthrough potential, "and could very easily eclipse the practice as it exists today," Vannier said. "The forefront of change is really in image-guided intervention. Those who understand and accommodate these changes will do very well, and those that do not face a perilous future."
By Eric Barnes
AuntMinnie.com staff writer
June 23, 2005
Related Reading
Researchers take aim at next-generation image-guided surgery systems, July 17, 2000
Copyright © 2005 AuntMinnie.com