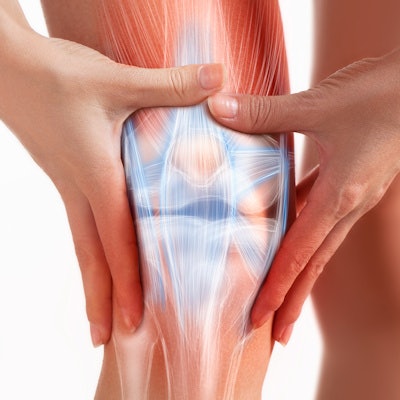 Freestanding ambulatory surgery centers (FASCs) saw a large spike in outpatient knee arthroplasty procedures after Medicare approved the procedure in 2018, according to a study published August 10 in JAMA Network Open.
This raises concerns, as a majority of patients accounting for the increase at these centers were white, insured by private payers, and living in communities of low social vulnerability, wrote lead author Charlotte Rajasingh, MD, of Stanford University, and colleagues.
"As more operations transition to the outpatient setting, variability in access to FASCs may increase, leaving hospital-owned centers to bear a greater share of the burden of caring for more vulnerable patients with more severe illness," the group wrote.
In 2018, Medicare removed total knee arthroplasty from the list of inpatient-only procedures, resulting in a new pool of patients eligible for outpatient total knee arthroplasty. In this study, the researchers aimed to determine how this change was associated with the characteristics of patients undergoing the procedure at FASCs compared to hospital-owned surgery centers (HOSCs).
The researchers culled data from the Florida and Wisconsin State Ambulatory Surgery Databases in 2017 and 2018 and included a total of 5,657 patients (mean age, 64.2) in the study. They found outpatient knee arthroplasties increased from 1,910 in 2017 to 3,747 in 2018 and were associated with an increase in total knee arthroplasties (474 in 2017 vs. 2,065 in 2018).
Moreover, this influx of patients undergoing outpatient knee arthroplasty was associated with an amplification of differences between the patients treated at FASCs and the patients treated at HOSCs, they noted.
Comparison of characteristics of patients undergoing surgery at HOSCs vs. FASCs in 2017 and 2018
HOSCs
FASCs
2017
2018
2017
2018
Patients with private insurance
42%
46%
63%
73%
Percentages of white patients
88%
88%
85%
91%
Patients from communities of low social vulnerability
8%
21%
7%
34%
"Although FASCs had cared for more wealthy, healthy, and white patients than [hospital-owned surgery centers] in 2017, this difference became more pronounced in 2018," the group wrote.
The researchers noted that there is some debate about whether FASCs are truly cost saving for insurance providers. While HOSCs are almost universally reimbursed at higher rates than FASCs, reduced access to FASCs for patients covered by public payers theoretically shifts the burden of higher-cost operations at HOSCs onto the public payer programs.
"If HOSCs are increasingly left to care for a less favorable payer mix, this may negatively affect a hospital system's ability to provide other essential but traditionally less profitable services," the group wrote.
The full article is available here.