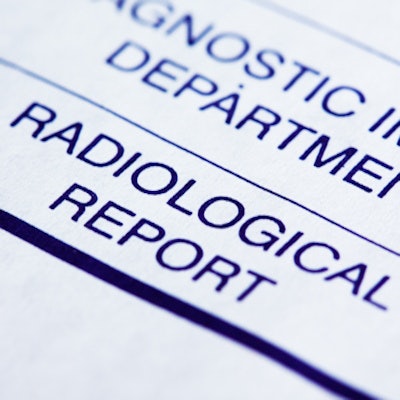 Only a third of interventional radiologists use standardized reporting as recommended by the Society of Interventional Radiology, according to findings published August 23 in the Journal of Vascular and Interventional Radiology.
Researchers led by Paul Lewis, MD, from the University of Pittsburgh Medical Center reported that among others, the most common barriers to using such standardized reporting include report length and lack of agreement within practices on adoption of the protocol.
"The results demonstrate insights regarding barriers in using and/or adoption of standardized reports, as well as potential solutions," Lewis and colleagues wrote.
Imaging reports help communicate findings among radiologists, and data structuring is helpful in making these reports universally recognizable, according to the group. This includes formatting with headings, having a consistent organization, and using standardized terminology as in American College of Radiology (ACR)-endorsed Reporting and Data Systems (RADS).
Previous research has shown that structured reporting with standardized language has several benefits, including more complete reports, more clarity and consistency, less time consumed, mitigation of potential revenue loss, and better research. But perhaps most importantly, ordering clinicians and radiologists prefer it, Lewis and colleagues noted.
Since 2015, the Society of Interventional Radiology has worked on implementing its own version of standardized reporting with automated data extraction via its Virtex registry. However, it has run into resistance from radiologists to use the tool in their practices. The investigators sought to identify challenges and barriers facing interventional radiologists for adopting standardized reports into their practices. To do this, they conducted a study that included survey responses from 451 interventional radiology practitioners from 92 unique academic centers and 151 unique private practices.
The team found that of the total study participants, 338 (75%) use structured reporting. Of these, 106 (31%) use standardized reporting from the society for "most" reports while 228 (67%) use nonsociety structured reporting or use society structured reporting for "only a few" reports.
The researchers also found that the standardized reports perceived as being too long to complete was the most common concern among radiologists at 35% (n = 150). Other top challenges and barriers included the reports not allowing for enough narrative or free text (28.4%, n = 127), and radiologists not agreeing on adoption within practices (27%, n = 110). Other barriers participants reported included a lack of templates specific to the procedures performed, a lack of IT or administrative support, and templates not allowing for customization.
Finally, the team found that 55% (200/364) of respondents reported being interested in learning more about Virtex.
While the study authors noted that several barriers exist for implementing the society's standardized reports, the current usage numbers shown in their study are "encouraging." They also highlighted that an "important strength" of the society's reporting is its adoption across a broad range of dictation and electronic medical record (EMR) systems.
"The [society's] standardized reporting with standardized language is the first step in strengthening the interventional radiology position, demonstrating value, and allowing interventional radiologists to compete using real-world data," the authors wrote. "This real-world data will ultimately enhance our practice on all levels and better serve our patients."
The full survey findings can be found here.