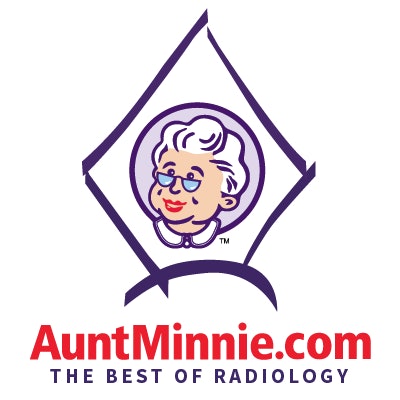 Below is a list of the candidates for the 2017 edition of the Minnies, AuntMinnie.com's campaign to recognize the best and brightest in medical imaging. This year's campaign includes 208 candidates in 14 categories.
Minnies winners will be selected by our expert panel in two rounds of voting. The finalists will be announced in late September, with the final winners announced in October.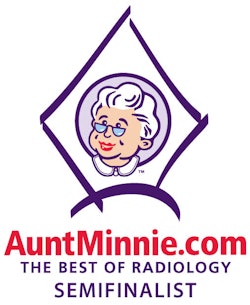 Most Influential Radiology Researcher
Dr. Stephan Achenbach, University of Erlangen
Dr. Richard Barr, PhD, Northeast Ohio Medical University
Dr. Hans Bloem, PhD, Leiden University Medical Center
Dr. James Brink, Massachusetts General Hospital
Dr. Vikas Gulani, PhD, Case Western Reserve University
Danny Hughes, PhD, Harvey L. Neiman Health Policy Institute
Dr. Emanuel Kanal, University of Pittsburgh Medical Center
Dr. Jennifer Kemp, Diversified Radiology
Dr. Liane Philpotts, Yale University
Dr. Alexander Radbruch, Heidelberg University
Dr. Elizabeth Rafferty, L&M Radiology
Dr. Andrea Rockall, Royal Marsden NHS Trust
Dr. Bruce Rosen, PhD, Massachusetts General Hospital
Frank Shellock, PhD, University of Southern California
Most Effective Radiology Educator
Dr. Wendie Berg, PhD, University of Pittsburgh
Dr. Kristen DeStigter, University of Vermont
Dr. Keith Dreyer, PhD, Massachusetts General Hospital
Dr. Elliot Fishman, Johns Hopkins University
Dr. Sarah Friedewald, Lynn Sage Comprehensive Breast Center, Northwestern Medicine/Prentice Women's Hospital
Dr. Frank Gaillard, Radiopaedia
Dr. Stephen Golding, University College Oxford
Dr. Gregory Henkle, Radiology Partners/Franciscan Health Olympia
Dr. Gregory Nicola, Hackensack Radiology Group
Dr. Stephen Pomeranz, ProScan Imaging
Dr. Stephen Rubesin, University of Pennsylvania
Dr. Sumer Sethi, Delhi Academy of Medical Sciences
Dr. Sanjiv Sharma, All India Institute of Medical Sciences
Dr. Benjamin Strong, Virtual Radiologic
Dr. Valerie Vilgrain, University Beaujon Hospital
Most Effective Radiologic Technologist Educator
Joey Battles, American Registry of Radiologic Technologists
Jeff Berry, University of Oklahoma Health Sciences Center
Dean Brake, St. Louis Community College - Forest Park
Jennifer Chiu, St. John's University
Frances Gilman, Thomas Jefferson University
Kristan Harrington, William Faulkner & Associates
Wynn Harrison, Weber State University
Joy Menser, Owensboro Community and Technical College
Robert Walker, Weber State University
Most Effective Radiology Administrator/Manager
Douglas Gibson, Penrad Imaging
Christie James, Massachusetts General Physicians Organization
Michael Langenberg, University Radiology
Angelic McDonald, Baylor Scott & White
Charles McRae, Columbus Radiology/Radiology Partners
Jason Newmark, Baystate Health
Charles Powell, Emory University
Scott Reid, Radiology Partners
Todd Stanley, Indiana University Health
Michele Sullivan, BJC Missouri Baptist Medical Center
Clark Yoder, Advanced Radiology Consultants
Best Radiologist Training Program
Brigham and Women's Hospital, Boston, MA
Brown University, Providence, RI
Case Western Reserve University, Cleveland, OH
Cleveland Clinic Foundation, Cleveland, OH
Duke University, Durham, NC
Emory University, Atlanta, GA
Indiana University, Indianapolis, IN
Johns Hopkins University, Baltimore, MD
Mallinckrodt Institute of Radiology, St. Louis, MO
Massachusetts General Hospital, Boston, MA
Mayo Clinic, Rochester, MN
Medical University of South Carolina, Charleston, SC
New York University, New York, NY
NewYork-Presbyterian Hospital/Weill Cornell Radiology, New York, NY
Northwestern University, Chicago, IL
Stanford University, Stanford, CA
Thomas Jefferson University, Philadelphia, PA
University of California, Los Angeles, Los Angeles, CA
University of California, San Diego, San Diego, CA
University of California, San Francisco, San Francisco, CA
University of Maryland, Baltimore, MD
University of Michigan, Ann Arbor, MI
University of Pennsylvania, Philadelphia, PA
University of Pittsburgh, Pittsburgh, PA
University of Texas Southwestern, Dallas, TX
University of Virginia, Charlottesville, VA
University of Washington, Seattle, WA
University of Wisconsin-Madison, Madison, WI
Wake Forest University, Winston-Salem, NC
Best Radiologic Technologist Training Program
Ball State University, Muncie, IN
Community College of Philadelphia, Philadelphia, PA
Emory University, Atlanta, GA
Quinnipiac University, Hamden, CT
St. Louis Community College - Forest Park, St. Louis, MO
Thomas Jefferson University, Philadelphia, PA
University of Oklahoma Health Sciences Center, Oklahoma City, OK
University of Pennsylvania, Philadelphia, PA
Weber State University, Ogden, UT
Most Significant News Event in Radiology
Arrival of artificial intelligence and machine learning in radiology
European regulators propose pulling linear gadolinium contrast from market
Failure of effort to repeal and replace the Affordable Care Act
FDA finds no evidence that gadolinium contrast poses a health risk
Imaging utilization continues drop started in 2001
Interventional radiologist runs for seat in U.S. Congress
Job market for radiologists improves
VA officials withdraw proposal to allow nurses to read and order imaging studies
WannaCry virus hits U.K. National Health Service
Biggest Threat to Radiology
Code bundling of radiology procedures
Commoditization of radiology services
Competition to local practices from teleradiology and national radiology groups
Continuing debate on the value of breast screening
Decline in Medicare and third-party reimbursement rates
Fear of gadolinium inhibiting access to clinically appropriate MRI exams
Increased use of medical imaging by physicians in other specialties (turf battles)
Nonstandardized radiology reports
Shift of radiology reimbursement away from fee-for-service model
Use of artificial intelligence to interpret medical images
Hottest Clinical Procedure
3D printing of internal anatomical structures
Augmented reality-assisted automated percutaneous lumbar discectomy
Automated breast ultrasound
Cinematic rendering of medical images
Coronary CT angiography
CT lung cancer screening
Digital breast tomosynthesis
MRI-guided prostate biopsy
PET/MRI
Synthesized 2D mammography
Scientific Paper of the Year
Additive manufacturing models of fetuses built from three-dimensional ultrasound, magnetic resonance imaging, and computed tomography scan data. Werner H et al, RSNA meeting, November 2016. To learn more about this paper, click here.
After nearly a decade of rapid growth, use and complexity of imaging declined, 2008-14. Levin DC et al, Health Affairs, April 2017. To learn more about this paper, click here.
Brain MR imaging findings and associated outcomes in carriers of the reciprocal copy number variation at 16p11.2. Owen JP et al, Radiology, August 8, 2017. To learn more about this paper, click here.
Cinematic rendering in CT: A novel, lifelike 3D visualization technique. Eid M et al, American Journal of Roentgenology, August 2017.
Comparing wearable display technologies: What are their relative advantages and disadvantages to the diagnostic and interventional radiologist? Gupta V et al, RSNA meeting, November 2016. To learn more about this paper, click here.
Detection of vessel occlusion in acute stroke is facilitated by color-coded 4D CTA. Meijs M et al, ECR, March 2017. To learn more about this paper, click here.
Effect of age on breast cancer screening using tomosynthesis in combination with digital mammography. Rafferty EA et al, Breast Cancer Research and Treatment, August 2017. To learn more about this paper, click here.
Incidental brain pathology on whole-body FDG-PET/MRI. Franceschi et al, RSNA meeting, November 2016. To learn more about this paper, click here.
Intracranial gadolinium deposition following gadodiamide-enhanced magnetic resonance imaging in pediatric patients: A case-control study. McDonald JS et al, JAMA Pediatrics, July 2017. To learn more about this paper, click here.
Patient-centered radiology: Where are we, where do we want to be, and how do we get there? Kemp JL et al, Radiology, June 20, 2017. To learn more about this paper, click here.
Relationship between MEG and diffusion imaging-measured changes over a season of high school football. Davenport E et al, RSNA meeting, November 2016. To learn more about this paper, click here.
Severity of ASD symptoms and their correlation with the presence of copy number variations and exposure to first trimester ultrasound. Webb SJ et al, Autism Research, March 2017. To learn more about this paper, click here.
Women's awareness and perceived importance of the harms and benefits of mammography screening: Results from a 2016 national survey. Yu J et al, JAMA Internal Medicine, June 26, 2017. To learn more about this paper, click here.
Best New Radiology Device
Azurion interventional radiology system, Philips Healthcare
BodyTom Elite portable CT scanner, Samsung NeuroLogica
ChameleonDR digital radiography system, Novarad
Clarius C7 wireless ultrasound scanner, Clarius Mobile Health
CXDI-810C wireless digital radiography panel, Canon
Digital breast tomosynthesis upgrade for Aspire Cristalle mammography system, Fujifilm Medical Systems USA
DR 800 digital radiography room, Agfa HealthCare
DRX-Revolution Nano mobile digital radiography system, Carestream Health
Halcyon radiation therapy system, Varian Medical Systems
Lisendo 880 ultrasound scanner, Hitachi Healthcare Americas
Maria radiowave breast imaging device, Micrima
MobileDaRt Evolution MX7k mobile digital radiography system, Shimadzu Medical Systems USA
MRIdian Linac, ViewRay
NovaSure Advanced endometrial ablation system, Hologic
Optima XR240amx portable digital radiography system, GE Healthcare
Resona 7 ultrasound scanner, Mindray Medical International
Somatom go line of CT scanners, Siemens Healthineers
Vantage Galan 3T MRI scanner, Toshiba Medical
Best New Radiology Software
Avreo Cloud VR cloud-based speech recognition software, Avreo
Cardio DL deep-learning software, Arterys
Centricity Imaging Collaboration Suite, GE Healthcare
Cinematic Volume Rendering Technique (VRT), Siemens Healthineers
ClearRead CT nodule detection software, Riverain Technologies
CosmosOne image archive software, Intelerad Medical Systems
Enterprise Imaging for Cardiology software, Agfa HealthCare
Exa Enterprise Imaging software, Konica Minolta Healthcare Americas
iCode, Rosenfield DWC
Illumeo artificial intelligence software, Philips Healthcare
Image Exchange Platform (IEP) software, Sectra
ImageMover Media web-based software for importing images, ImageMoverMD
Infinitt Healthcare Analytics - Enterprise Search, Infinitt Healthcare
Intelligence Hub interoperability software platform, Change Healthcare (formerly McKesson)
I-View contrast-enhanced digital mammography, Hologic
LifeImage 5.0 enterprise image-sharing platform, LifeImage
LungVision augmented reality software, Body Vision Medical
Nucleus.io cloud image management software, NucleusHealth
OpenSight augmented reality software, Novarad
PowerLook Tomo Detection software, iCAD
Profound analytics engine for patients, Zebra Medical Vision
QVCAD automated breast ultrasound CAD software, QView Medical
ResolutionMD 6.0 image viewing software, Calgary Scientific
Synapse 5 PACS, Fujifilm Medical Systems USA
Vepio ultrasound deep-learning software, ContextVision
Visage 7 Open Archive enterprise imaging software, Visage Imaging
Vitrea Data Stream software, Vital Images
VolparaEnterprise DDP, Volpara Solutions
Watson Imaging Clinical Review AI software, IBM Watson Health
Within Image Analysis machine-learning platform, TeraRecon
XD:PACS software, Mirada Medical
Best New Radiology Vendor
7D Surgical
Aidence
AIDoc Medical
Altamont Software
Alzeca
Body Vision Medical
DeepRadiology
Infervision
Lumicell
Micrima
Mint Labs/Qmenta
Optellum
Panzura
QT Ultrasound
Radiaction
Rosenfield DWC
Viz
Zetta Medical Technologies
Click on the links above to learn more about each vendor.
Best Radiology Mobile App
A k-Space Odyssey, Eltjo Haselhoff, PhD
Bone Age, Springer
Contrast Media: NSF vs. CIN, Dr. Sandro Fenelon
CTisus iPearls, Dr. Elliot Fishman
Dicompass DICOM Camera, Medoro
iRad Xrays, iCat Solutions
Kanal's MR Safety Implant Risk Assessment, Dr. Emanuel Kanal
Lung Nodule Manager, Radiologiq
RADiDOC, University of California, Los Angeles
Radiology Assistant 2.0, BestApps
Radiology Rounds, DailyRounds
UBC Radiology teaching app, Drs. Kathryn Darras and Matthew Toom