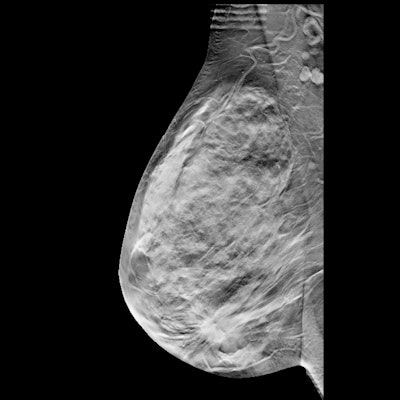 Digital breast tomosynthesis (DBT) improves breast cancer screening performance in community practice, with radiologists also showing better interpretive performance with the modality over time, according to a study published April 11 in Radiology.
A team of researchers led by Dr. Christoph Lee from the University of Washington School of Medicine in Seattle found in their study of over 2.3 million breast cancer screening examinations that DBT detects more invasive cancers compared with digital mammography. The group also found that radiologists are performing well within previously established benchmarks for mammography, setting the stage for new benchmarks for screening DBT.
"This study provides more evidence that DBT has benefits with regards to screening performance in U.S. community settings, and that its broader adoption is a good thing," Lee told AuntMinnie.com.
The interpretive performance of radiologists affects breast cancer mortality reduction, with radiologists and screening facilities being required to meet minimum quality standards as stated by the Mammography Quality Standards Act (MQSA).
When it comes to gauging mammography exam interpretation performance, the American College of Radiology Breast Imaging Reporting and Data System (BI-RADS) is the practice standard for U.S. radiologists. In 2006, the Breast Cancer Surveillance Consortium (BCSC) began publishing screening performance benchmarks in 2006, and updates these benchmarks regularly, the team noted.
Lee and colleagues sought to help establish performance benchmarks for DBT screening, evaluating performance trends over time in U.S. community practice. They collected DBT screening exam data from between 2011 and 2018 from five BCSC registries.
The study included a total of 896,101 women who underwent 2,301,766 breast cancer screening examinations. Out of this total, 458,175 were DBT exams while 1,843,591 were digital mammography studies.
The team found that most performance measures for the reading radiologists were higher for DBT compared with BCSC digital mammography screening exams and previous benchmarks from the BCSC and National Mammography Database.
Performance metrics for DBT, digital mammography
Performance metric
Mammography
DBT
Abnormal interpretation rate
10.3%
8.3%
Cancer detection rate per 1,000 screens
5.3
5.8
Sensitivity
87.6%
87.4%
Specificity
90.2%
92.2%
False negative rate per 1,000 screens
0.8
0.8
PPV1 (abnormal interpretation)
5.2
6.9
PPV2 (biopsy recommended)
27.9
32.2
PPV3 (biopsy performed)
31.7
35.5
Additionally, the researchers found that radiologists achieved the recommended acceptable performance ranges with DBT alone across the following measures:
97.6% for cancer detection rate
91.8% for sensitivity
75% for abnormal interpretation rate
74% for specificity
"This is a reassuring result, as there is minimal additional training required for DBT interpretation," the study authors wrote. "These promising trends are also likely a reflection of the relatively rapid learning curve for U.S. community radiologists when transitioning from digital mammography to DBT."
Current BCSC research efforts include evaluating artificial intelligence (AI) technologies as adjuncts for both digital mammography and DBT screening interpretation, Lee told AuntMinnie.com.
In an accompanying editorial, Dr. Cindy Lee and Dr. Linda Moy from New York University wrote that, along with providing new screening performance benchmarks for DBT in U.S. community practice, the study highlights the need for "more robust evidence on the long-term clinical outcomes of DBT screening."
"Given demonstrated improvements in screening performance over time with DBT, previously published performance ranges based on film and digital mammography may be less applicable to current U.S. practice," Lee and Moy concluded.