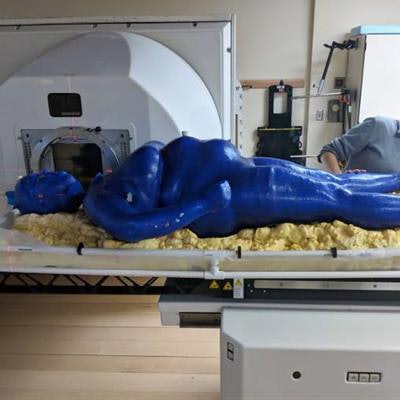 Researchers from Louisiana have created a 3D-printed full-body phantom that clinicians can use to test radiation therapy protocols as a way to improve dosing for radiation therapy during cancer treatment.
The group, led by Louisiana State University (LSU) graduate student Meagan Moore, created a 3D-printed phantom they call Marie, a 5-foot-1-inch 3D-printed phantom that weighs 15 lb and is composed of bioplastic. Whereas conventional phantoms used for radiation therapy research are generic and limbless objects, Marie has a lifelike design based on a combination of 3D scans from five different women.
Furthermore, the 3D-printed phantom costs roughly $500 to make -- considerably less than the $40,000 purchasing cost of typical phantoms. Clinicians can also fill the 3D-printed phantom with water, altering its density to match that of a particular patient. Moore and colleagues have shown that Marie can hold as many as 36 gallons of water for 4.5 hours in early trials.
A team of scientists and clinicians at the University of Washington Medical Cyclotron Facility in Seattle have recently been testing the phantom's viability with fast-neutron radiation therapy, a technique used to eliminate radioresistant tumors.
"Children and breast cancer patients have really differing morphology that is usually very difficult to treat," Moore said. "What I'd like to see for this project is the research to be used as foundational work to personalize cancer treatments for people with more complex treatments."