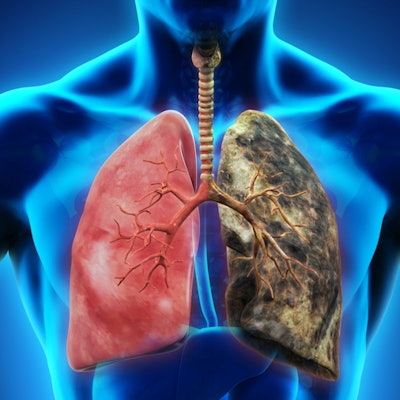 Low-dose CT (LDCT) lung cancer screening uptake shows considerable variation -- not only among different payers but also due to patient demographic factors, according to a study published March 29 in the Journal of the American College of Radiology.
The results highlight the need for targeted intervention to boost lung cancer screening use, wrote a team led by Danny Hughes, PhD, of Georgia Institute of Technology and Emory University, both in Atlanta.
"Although lung cancer screening rates are increasing, albeit slowly, now is the time to identify disparities and underutilization across states and within the population groups eligible for screening," the group noted. "Efforts specifically targeting historically vulnerable populations could present opportunities for outsized gains to public health."
Lung cancer screening is protected from cost-sharing for insured people in the U.S. -- a fact that would seem to encourage its uptake, Hughes and colleagues wrote. But since screening rates continue to be generally low, it would seem that there are other factors at play.
To explore what these might be, the investigators conducted a study that used data from the 2017 County Health Rankings to estimate enrollees eligible for lung cancer screening; the data included 1.1 million eligible enrollees insured under commercial plans and/or Medicare fee-for-service or Medicare Advantage plans.
The team found the following:
Overall estimated screening rate for enrollees by payer
Type of plan
Percentage
Commercial
1.8%
Medicare fee-for-service
3.4%
Medicare Advantage
4.5%
But the group also discovered that screening rates were influenced by demographic factors, with uptake lowest among women; those between 75 and 77 years of age; those living in rural areas; and those living in the western U.S. Among Medicare fee-for-service enrollees, white individuals had a rate of 3.7%, black people had a rate of 2.2%, and other racial/ethnic groups had a rate of 1.7%.
"Although screening rates were low across all subgroups examined, there appear to be substantial disparities in LDCT usage among rural non-white populations," the investigators noted.
The study highlights that there's more work to be done to educate patients eligible for lung cancer screening, according to Hughes and colleagues.
"Our results indicate that among the low-dose CT-eligible Medicare population, non-Hispanic Black and Other races utilized LDCT at a frequency disproportionately lower than non-Hispanic white beneficiaries," they concluded, attributing this finding in part to a lack of awareness about lung cancer screening programs, which highlights "another opportunity for educating non-white patients and better engaging their providers."