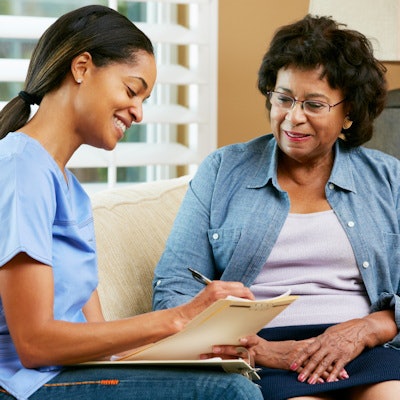 Community-level social determinants of health are strong predictors of disparities in compliance with incidental lung nodule follow-up, a study published on July 19 in the Journal of the American College of Radiology has found.
That's why it continues to be important to reach out effectively to underserved populations when tracking incidental findings on chest CT, wrote a team led by Nitya Thakore of the New York University Grossman School of Medicine in New York.
"Patients ... with the greatest social vulnerability [have] increased risk of inappropriate follow-up compared with those with least social vulnerability," the group noted.
Lung nodules are the most common incidental finding on CT exams and are found on up to one- third of CT scans, the group explained. As some of these findings will progress to lung cancer, it's crucial to track them after they have been identified, particularly nodules equal to or greater than 6 mm or multiple ground-glass nodules smaller than 6 mm. Yet research shows that only 30% to 50% of patients with these types of nodules receive appropriate follow-up (for example, PET imaging or lung biopsy).
Is the lack of appropriate follow-up linked to social or structural barriers (such as race or geographic or economic inequities) to healthcare access? Thakore and colleagues sought to answer this question via a study that included information from 2,492 patients taken from the 2018 U.S. Centers for Disease Control and Prevention Social Vulnerability Index (SVI) and the Index of Concentration at the Extreme (ICE).
SVI comprises four categories of factors: socioeconomic status, household composition and disability, minority status and language barriers, housing type, and access to transportation. ICE measures "racialized economic segregation," the group explained.
Overall, the group found that the top quartile of SVI individuals was more likely to have inappropriate follow-up compared with the bottom quartile (risk ratio, 1.24, with 1 as reference) and that risk was higher in top-quartile SVI subcategories of socioeconomic status (risk ratio, 1.23).
Risk ratio (with 1 as reference) by type of socioeconomic factor
Factor
Risk ratio
Minority status and language barriers
1.24
Lack of housing and transportation
1.13
Top quartile of ICE
1.20
As well, individuals in the top quartile of ICE showed a greater risk of inappropriate follow-up among those with high-risk incidental pulmonary nodules (ratio, 1.33) versus those with lower-risk nodules (ratio, 1.13).
"Patients with high community-level social vulnerability and residential segregation had greater risk of inappropriate follow-up, loss to follow-up, and late follow-up," the group noted.
What can be done to mitigate this problem? More patient support is needed, according to the authors.
"Our results warrant investigation of stronger monitoring and supportive policies for patients living in areas of social and economic disadvantage to facilitate [incidental pulmonary nodule] care and potentially to reduce lung cancer disparities, both from the perspectives of system-level care and potentially, quality measures," they concluded.
The complete study can be found here.