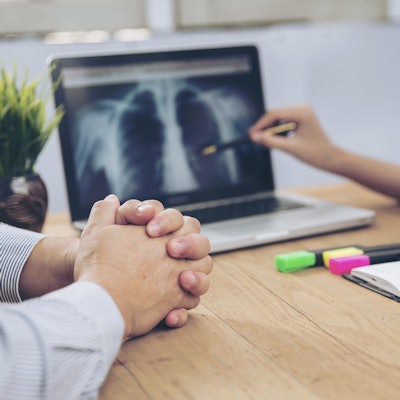 Clinicians should continue to use "shared decision-making" to help eligible individuals decide whether to seek out low-dose CT lung cancer screening, according to guidelines from the U.S. Preventive Services Task Force (USPSTF), published March 9 in JAMA.
The concept of shared decision-making has become controversial in the debate over how to promote greater uptake of lung cancer screening for former smokers. Advocates of the practice believe that these physician-patient encounters support informed choice about medical care, including screening. Meanwhile, critics believe that shared decision-making creates unnecessary impediments to screening that have led to low adoption rates for eligible individuals.
But in new CT lung screening guidelines released this week, the USPSTF doubled down on its recommendation for the consultations, even as it expanded the number of individuals who are now eligible to be screened.
"Shared decision-making is important when clinicians and patients discuss screening for lung cancer," the USPSTF wrote. "The decision to undertake screening should involve a thorough discussion of the potential benefits, limitations, and harms of screening."
In fact, in 2015, the U.S. Centers for Medicare and Medicaid Services (CMS) stated that beneficiaries must first undergo a counseling visit for shared decision-making regarding lung cancer screening -- the only such mandate for a screening test, according to a viewpoint written by a team led by Dr. Richard Hoffman of the University of Iowa Carver College of Medicine in Iowa City.
CMS's action is part of what makes the physician-patient conversation about screening so important, according to the group.
"This unprecedented mandate [from CMS] for ordering a screening test recognized that individuals differ in balancing the importance of gaining benefits versus avoiding harms," it wrote. "With the USPSTF now recommending expanded screening for lung cancer to include populations at lower absolute risk [for the disease], the importance of shared decision-making has increased."
Uptake of CT lung cancer screening has been less than desired, and there's concern that adding shared decision-making to the process acts as a further barrier, Hoffman and colleagues noted. But this critique is short-sighted, the authors wrote.
"The purpose of the shared decision-making visit is not to influence overall screening rates, but to ensure that the values and preferences of an informed patient are part of the screening decision," they wrote.
So how feasible is shared decision-making for improving lung cancer screening uptake, or patients' understanding of why screening is a good idea? Hoffman's group acknowledged that exactly how to offer this kind of interaction to patients is unclear.
Primary care physicians are often under serious time constraints, and training other types of clinicians may not be feasible either. The best bet could be using trained nonphysician staff -- nurses, psychologists, and social workers -- as "decision coaches" -- and making sure that these staff are reimbursed by CMS.
"The time- and resource-constrained clinician visit remains a major impediment to implementation [of shared decision-making], and both the quality and feasibility of shared decision-making visits could be enhanced if CMS and other payers would reimburse for [these] visits delivered by an expanded pool of trained nonphysician staff, particularly through telehealth," the team wrote.
In any case, lung cancer screening is only effective if it is used, and patients must be on board.
"Screening can reduce lung cancer mortality only if patients are committed to the screening process, including performing initial and annual screening tests, controlling tobacco use, and undergoing recommended diagnostic testing and treatment," Hoffman and colleagues concluded.