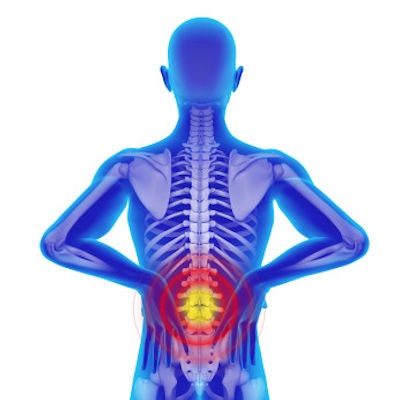 A relatively simple electronic health record (EHR) intervention reduces the incidence of unnecessary x-rays for patients presenting with low back pain, a study published July 28 in the Journal of the American College of Radiology has found.
"Our low-effort EHR intervention successfully reduced lumbar x-ray across all clinical settings in the largest safety net institution across the country," wrote a group of researchers led by Surafel Tsega, MD, of New York City Health and Hospitals (NYC H+H).
Almost 80% of adults experience low back pain at some point in their lives, the group noted, and although this condition makes up a small percentage of outpatient visits, it often leads to costly -- and unnecessary -- imaging, and a "cascade of downstream services which can result in undue harm to the patient, including radiation exposure, potentially unnecessary surgical procedures with associated morbidity, and emotional distress."
Tsega's group developed an intervention to reduce imaging for low back pain based on data from a quality improvement study it conducted across 70 ambulatory clinics and 11 teaching hospitals. The intervention consisted of three electronic health record changes for orders for lumbar x-ray, CT, or MRI. There were 24,177 patient encounters in the pre-intervention period and 11,816 in the postintervention period.
The three EHR changes included the following, the authors wrote:
An advisory statement within the order title recommending against routine imaging for low back pain in the first six weeks in the absence of red flag symptoms such as suspicion of cancer, infection, or cauda equina.
The same advisory statement incorporated in the process instructions in the imaging order.
Replacement of a list of 24 indications for lumbar imaging with a shorter list based on the ACR's recommendations.
These changes were applied to all imaging orders for lower back pain in inpatient, outpatient, and emergency department settings in the NYC H+H system starting in July 2022, with the preintervention period ranging from July 2021 to June 2022 and the postintervention period ranging from July 2022 to February 2023.
The researchers found that the intervention significantly reduced lumbar x-ray orders across all care settings.
Percent decrease in lumbar x-ray orders postintervention
Exam setting
Percent decrease
p-value
Inpatient encounters
-52.9%
< 0.001
Ambulatory encounters
-23.7%
< 0.001
Emergency department encounters
-17.3%
< 0.01
On the downside, shifts in lumbar CT ordering -- with the exception of a 15% increase in ED orders -- were not statistically significant and there was no difference in lumbar MRI ordering.
"We speculate that prior to our intervention, clinicians may have considered X-rays low cost, less harmful, and easier to obtain compared to CTs or MRIs," the authors wrote. "This may have resulted in excessive use of X-rays as a first-line evaluation for back pain. This instance of supply sensitive overuse (utilization of health care resources based on availability more than medical necessity), may have created greater opportunities in reducing potentially unnecessary imaging for x-rays, as compared to CT or MRI."
The team hopes the study will prompt the development of other interventions.
"Future initiatives can expand on this model by offering a more robust analysis of the reduction in potentially unnecessary lumbar imaging," the authors concluded.
The complete study can be found here.