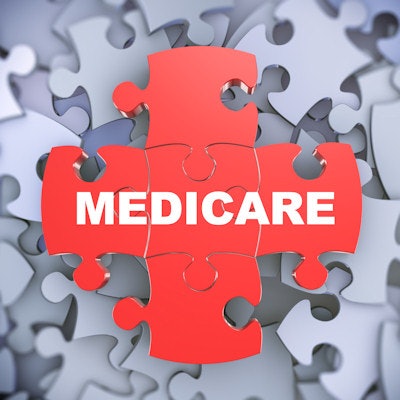 Patients covered by the Medicare Advantage program appear to have lower rates of low-value healthcare -- including medical imaging exams -- compared to traditional Medicare, according to a study published September 9 in JAMA Health Forum.
The findings suggest a way to mitigate the use of healthcare services with low clinical worth, a team led by Emily Boudreau, PhD, of Humana in Louisville, KY, wrote. The study authors cited research that showed that as many as a third of Medicare beneficiaries receive low-value services each year, and they noted that efforts to avoid the use of these services haven't been very successful.
"Despite considerable attention, the incidence of low-value care in Medicare has remained stable during the past two decades," the group wrote.
Assessment of the use of healthcare services considered to be of little clinical benefit has focused on factors related to patients, physicians, and service delivery rather than how insurance coverage is designed. So Boudreau and colleagues explored whether there are differences between Medicare Advantage and the traditional Medicare framework when it comes to minimizing the use of low-value services.
To do this, the authors conducted a study that investigated any association between Medicare Advantage enrollment and rates of services of low clinical worth and compared these results to data from traditional Medicare. (Medicare Advantage is also known as Medicare Part C and offers a way to get Medicare coverage through private insurance.) The research included information from 2.5 million Medicare beneficiaries, 61.8% of whom were enrolled in Medicare Advantage and 38.2% in traditional Medicare.
Boudreau and colleagues found that Medicare Advantage beneficiaries received 9.2% fewer low-value services in 2019 than traditional Medicare program beneficiaries; this difference was largest for those enrolled in health management organizations (HMOs).
Where does imaging fit into all this? According to the researchers, the specialty is the fourth on a list of six low-value service categories. Imaging exams considered to be low value include the following:
CT of the sinuses for uncomplicated acute rhinosinusitis
Head imaging in the evaluation of syncope
Head imaging for uncomplicated headache
Electroencephalogram for headaches
Back imaging for patients with nonspecific low back pain
Screening for carotid artery disease in asymptomatic adults
Screening for carotid artery disease for syncope
Medicare Advantage reduced the use of these types of imaging services by 10%, the investigators reported.
In any case, incorporating insurance design factors into Medicare coverage appears to be an effective way to curb the use of healthcare services considered to be of low clinical value, according to the team.
"Outside of the traditional Medicare program, where Medicare Advantage, Medicaid, and commercial plans have more flexibility to experiment with approaches to insurance design, there is an opportunity to refine and test how to optimize network design, product design, utilization management, value-based payment, and other elements of insurance design to reduce the prevalence of low-value care," the group concluded.