There will be much to learn in imaging informatics at RSNA 2011 as radiologists and IT professionals delve into the ways that informatics can improve the performance of a radiology department, assist daily work life of radiologists, and look after patients' clinical management in ways that were unheard of before healthcare records went electronic.
At this year's conference, key topics include the following:
Data mining and analytics
Structured reporting templates and use of RadLex terminology
Critical results reporting
Decision support software
Improving quality assurance processes and peer review
Harnessing informatics to monitor and improve workflow
Electronic patient record tracking of clinical information and recommendations
And of course, "meaningful use"
Two refresher/informatics courses are dedicated to the topic of meaningful use. These include an updated overview (Monday, November 28, 2:30 p.m-4:00 p.m., ICII23, Room S501ABC; and Thursday, December 1, 12:30 p.m.-2:00 p.m., ICII52, Room S501ABC). There will also be a candid discussion of how radiology practices are preparing for and achieving meaningful use criteria, included in our highlighted descriptions below.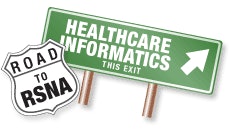 For fundamentals in informatics, don't overlook a two-part course presented in conjunction with the Society for Imaging Informatics in Medicine on Monday, November 28 (10:30 a.m.-12:00 p.m., ICII21, and 12:30 p.m.-2:00 p.m., ICII22, both in Room S501ABC).
The RSNA has been promoting intelligent adoption of best-practice structured reporting templates and the use of standard terminology for radiology reporting for several years. These are starting to take off, and many interesting sessions -- courses, posters, and scientific sessions -- are dedicated to them.
Two courses deal with the fundamentals and will provide the latest updates:
The RSNA's initiative to develop best-practices radiology report templates (Tuesday, November 29, 10:30 a.m.-12:00 p.m., ICII31, Room S501ABC)
A session on standard terminology in radiology (Tuesday, November 29, 4:30 p.m.-6:00 p.m., RC430, Room S403A)
Another important RSNA informatics initiative is the RSNA's Clinical Trials Processing project, which will be the subject of a Sunday, November 27, session (4:00 p.m.-5:30 p.m., ICII12, Room S501ABC).
A big focus during this year's conference is on using the power of informatics to make improvements that would not be possible otherwise. Here are three courses to consider:
Quality improvement and productivity dashboards (Tuesday, November 29, 8:30 a.m.-10:00 a.m., MSQI31, Room S406B)
Decision support to improve outcomes (Wednesday, November 30, 8:30 a.m.-10:00 a.m., RC526A, Room S504CD)
Information technology for radiation dose reduction (Thursday, December 1, 4:30 p.m.-6:00 p.m., RC730, Room S404CD)
A very useful course as radiology IT-- specifically RIS and PACS -- is becoming a subset of the total electronic health record and enterprise IT will be a session on IT management for radiologists. It will explore the cultural chasm between today's corporate IT professional and the clinical world (Thursday, December 1, 8:30 a.m.-10:00 a.m., RC630, Room S102C).
Courses are especially strong this year, and so also are educational exhibits and quality storyboards. For this reason, the sessions highlighted below lean to the venue of the Lakeside Learning Center. Over the years, many commercialized products that have become indispensable to imaging informatics have made their first appearance as a poster or computer exhibit. This year, there may be some gems. Check them out.
To view the RSNA's listing of abstracts for this year's scientific and educational program, click here.