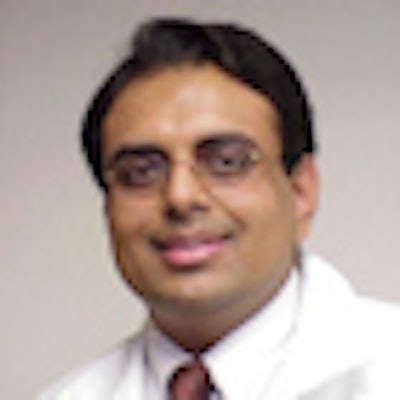 Giving patients control over the exchange of their radiology reports and images could save millions of dollars in healthcare expenditures. In addition, patient-focused electronic image exchange would also benefit radiologists, according to imaging informatics expert Dr. Khan Siddiqui.
Between $3 billion and $10 billion is spent on unnecessary radiology procedures in the U.S., according to estimates of the Imaging e-Ordering Coalition, an organization promoting the use of computerized physician order entry (CPOE) with integrated clinical decision-support software.
Another recently published report estimates that of the approximately $120 billion spent annually in the U.S. on diagnostic imaging exams, 10% is redundant. This equates to an annual waste of $6 billion, according to Siddiqui, associate professor of radiology at Johns Hopkins University and chair of the IT and Informatics Committee of the American College of Radiology (ACR). He spoke at the New York Medical Imaging Informatics Symposium held in Manhattan last month.
Siddiqui made a strong case for radiologists to seize the opportunity provided by the federal government's initiative to spur healthcare providers to convert from paper-based to electronic medical records.
"As national efforts move patient-physician communications electronic, we need to embrace the paradigm change so we can determine what is appropriate for radiology, instead of being forced to comply for standards and mechanisms designed for text-only-based electronic communication," Siddiqui said.
Siddiqui has long been an advocate for electronic data exchange of patient medical records, and he now works as a principal program manager in platform engineering for Microsoft. Siddiqui believes that just as the world came to accept Copernicus' revolutionary concept that the Earth revolves around the sun instead of vice versa, it is time for healthcare organizations to realize that healthcare information should revolve around the patient instead of themselves.
With a patient-centric model to control patient information -- something that is just now technologically feasible -- the boundaries imposed by healthcare institutions relating to the transfer of patient records can be eliminated.
"By putting the patient in the center of authorizing authority, the continual problem of getting authorization for images to be transferred in a timely manner wherever they are needed will be eliminated," Siddiqui explained. "A patient-centric model allows the patient to assign access to radiology reports and images at any time. As long as the patient consents, exam results can be received when and where they are needed, potentially anywhere in the world."
More specifically, patients trust data portals branded with the institution providing their care, rather than those carrying the logo of commercial IT vendors they may have never heard of, Siddiqui believes.
"[Epic Systems'] MyChart has more than 85 million users, but from the patient's perspective, they are using GeisingerMyChart or whatever their healthcare provider organization's name is," Siddiqui said. It has become very clear that patients want a trusted healthcare source to provide the electronic management of their records, he noted.
Why radiologists should get involved
Radiologists need to realize that once they have interpreted a diagnostic imaging examination for a patient, they have established a physician-patient statement. Today's patients have different expectations of when they want to receive report findings. One thing that they don't want to do is wait.
Siddiqui referenced a 2009 study conducted by members of the department of radiology at Wake Forest University School of Medicine. It included comments from patients relating to radiology results notification. Patients said that they had hoped to leave the radiology department with an immediate understanding of their findings. They did not want to wait potentially weeks for an appointment with their referring physician to learn about their results.
Patients had no qualms about having radiologists provide exam results to them. Some said they want details, even if the report is negative. One patient expressed the frustration of being told that "everything was fine" after a diagnostic imaging procedure.
"That's not clear to me," Siddiqui said, sharing the quote. "Was my spine fine? Was my leg fine? Give me details. My physician didn't have them." Another said, "I want all the details: what you found, how you found it, and what we're going to do about it -- in language I can understand."
In addition to wanting timely information to reduce the stress of waiting, patients also wanted to be able to research a condition online. Especially if a finding was bad -- such as cancer -- they wanted to be able to search the Internet to prepare for the doctor's visit.
This was summarized in another quote Siddiqui referenced: "If you have to sit there in the doctor's office and you get really bad news out of the blue, you are stunned. You can't think, and then you walk away. The next day you are asking why you didn't ask more questions. So if I found out about a diagnosis before the doctor's visit, I'd be better prepared to ask questions."
Radiologists need to rethink how they render a radiology report if it's going to be read by both physicians and patients, Siddiqui recommended. Also, this is not a new idea, he pointed out; it's been discussed with using report templates that could help prepare a clinical report for the patient's medical record, as well for reports written specifically to inform the patient.
"You can use email. In fact, if you are not familiar with the federal government-funded Direct Project, you need to visit directproject.org," Siddiqui said. "The Direct Project specifies a simple, secure, scalable, standards-based way for participants to send authenticated, encrypted health information directly to known, trusted recipients over the Internet."
It's time for radiologists to think about and implement best practices for engaging with patients, Siddiqui emphasized. If radiologists don't get proactive and start using IT that's already available, at some point someone will tell them to do it. And it may not be in the best way for the specialty, he concluded.