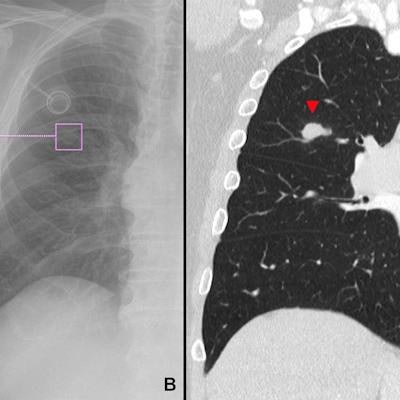 A commercially available artificial intelligence (AI) algorithm could provide radiologists with a confidence boost by confirming negative findings on chest x-rays, according to a study published March 5 in Scientific Reports.
A group led by Dr. Julius Niehoff of Ruhr University Bochum in Germany tested the performance of AI Rad Companion Chest X-ray (Siemens Healthineers) compared with radiologist interpretations. The algorithm offered a slightly higher sensitivity for detecting certain findings but importantly also achieved high negative predictive values (NPVs), the researchers found.
"At the current stage of development, it is conceivable that the high NPVs for the detection of the predefined findings are the greatest benefit of AI-Rad," Niehoff and colleagues noted.
AI-Rad detects five specific radiographic findings: pulmonary lesions, consolidation, atelectasis, pneumothorax, and pleural effusion. It received the CE mark for use in Europe in 2020. The algorithm generates a confidence score on a scale of 1 (low) to 10 (high) for each finding, which expresses its certainty for the presence of that particular finding; only scores of 6 or more are displayed.
Most studies evaluating AI-Rad's performance for interpreting chest x-rays have focused on one particular finding, such as the detection of lung nodules, according to the investigators. In this study, they further assessed the value of the algorithm by testing its full range in an x-ray dataset from 499 patients. The exams were taken by seven different x-ray machines in four different hospitals and independently evaluated by radiologists and the AI-Rad; the researchers then compared AI-Rad's and the radiology report findings.
AI-Rad achieved a higher sensitivity for the detection of lung lesions compared with the radiologist readers (83% vs. 52%), consolidations (88% vs. 78%) and atelectasis (54% vs. 43%) compared with the radiologist reports. The sensitivity of the AI-Rad for the detection of pleural effusions was lower compared with the reports, however, at 74% versus 88%.
For both AI-Rad and the radiology readers, overall higher sensitivity was accompanied by high NPVs, the researchers found: For instance, in terms of detecting lung lesions, the NPV for AI-Rad was between 0.91 and 0.97, comparable with the NPV of the radiologist reports at 0.97 (with 1 as reference), the authors wrote.
"When taking the evaluation of the AI-Rad into account, radiologists may reinsure their own negative search for lung lesions, which may increase their confidence in their report," they wrote.
Using algorithms to evaluate chest x-rays appears to be a good "proof of concept" for clinical settings, the authors noted. To that end, AI-Rad may be considered a diagnostic aid, they wrote.
"Radiologists reinsuring their own negative search for pathologies in a chest radiograph by considering the evaluation of the AI-Rad may have higher diagnostic confidence in their reports leading to faster reporting," Niehoff and colleagues concluded.