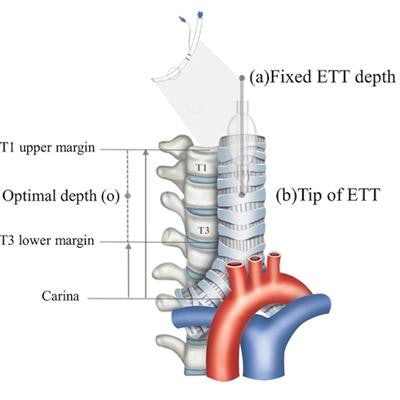 Researchers have created an artificial intelligence (AI) model that they say could serve as an easy-to-use tool for placing endotracheal tubes in pediatric patients, according to a study published March 29 in Scientific Reports.
A group from Seoul, South Korea, used patient chest x-rays to develop an AI algorithm that appears to reduce the risk of inappropriate placement. They suggested it could be helpful to clinicians unfamiliar with the procedure.
"Endotracheal tube (ET) misplacement is common in pediatric patients, which can lead to serious complication. It would be helpful if there is an easy-to-use tool to predict the optimal ET depth considering each patient's characteristics," noted co-first authors Drs. Jae-Geum Shim of Kangbuk Samsung Hospital and Eun Kyung Lee of Chung-Ang University Hospital, and colleagues.
Endotracheal intubation in critically ill children can be challenging due to their shorter windpipes, with deep and shallow placements associated with an array of potentially serious complications, the authors explained.
With an eye on developing a novel machine-learning model to predict the appropriate ET depth, the group collected data from 1,436 intubated pediatric patients under 7 years old. Patient data including age, sex, height, weight, the internal diameter of the ET, and ET depth were collected from electronic medical records and chest x-rays. Among these, 1,436 data were divided into training (70%, n = 1,007) and testing (30%, n = 429) datasets.
The training dataset was used to build the appropriate ET depth estimation model, while the test dataset was used to compare the model's performance with three standard mathematical formula methods based on population statistics.
According to the findings, the rate of inappropriate ET location was significantly lower using the machine-learning model (17.9%) compared with formula-based methods (35.7%, 62.2%, and 46.6%), the researchers reported.
"The use of our [machine-learning] model was able to predict optimal ET depth for pediatric patients only with basic patient information and reduce the risk of inappropriate ET placement," the group wrote.
In addition, the group developed a web application based on the algorithm so that anyone can access the prediction model and predict the appropriate ET depth.
Ultimately, while promising, the researchers noted that an actual clinical application study will be required for generalization of the model, given this study used only single-center data.
"We plan to update and test our model using data from other external institutions in further studies," the group concluded.