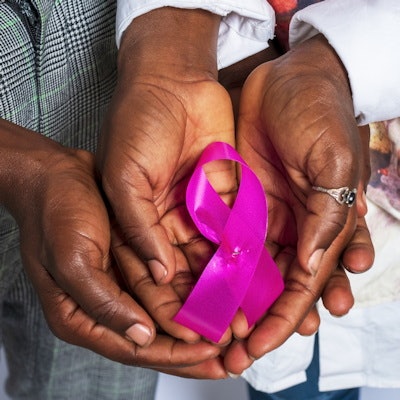 Rates and timeliness vary for diagnostic evaluation and biopsy in women with abnormal screening mammograms, according to research published September 16 in the Journal of the American College of Radiology.
A team led by Eniola Oluyemi, MD, from Johns Hopkins University in Baltimore, found that women who are older and/or Black experience lower biopsy rates and longer biopsy times. It wrote that these findings underscore the need for more personalized care for women undergoing breast cancer screening.
"Subsets of women and facilities could benefit from targeted interventions to promote timely diagnostic resolution and biopsy after an abnormal screening mammogram," Oluyemi and colleagues wrote.
The Mammography Quality Assurance Act mandates that women receive lay-friendly written communication from breast imaging facilities informing them of their mammography results within 30 days of the examination date. However, there is no consensus in the U.S. when it comes to defining "timely follow-up" after an abnormal exam, the researchers noted.
They also suggested that diverse national datasets are needed to help set benchmarks and create such guidelines, which can be applied to diverse populations and settings across the country.
Oluyemi and colleagues sought to investigate the rate and timeliness of diagnostic resolution following abnormal screening mammograms, using data from the American College of Radiology's National Mammography Database. They included data from 2,874,310 abnormal screening mammograms with a BI-RADS 0 assessment collected between 2008 and 2021. Of the total, 1,909,326 (64%) had documentation for follow-up exams.
Demographically, the researchers reported that the majority of mammograms in this cohort were performed in women who are white (37.5%), non-Hispanic (64.9%), and have no family history of breast cancer (49.3%). Additionally, freestanding imaging centers and facilities with community hospital affiliation were the most common facility types (39.7% and 42.2%, respectively) in the data, and the most common facility community setting was metropolitan (56.5%).
The team found lower follow-up rates in younger women, including 59.4% in women younger than 30 and 63.2% in women ages 30 to 39. The group also found lower rates in Black women (57.4%) and American Indian women (59.5%), as well as women with no breast cancer family history (63.0%).
The researchers also found that the overall median time to diagnostic evaluation was nine days, but longer median diagnostic evaluation times were found for women who are Black (14 days), other/mixed race (14 days), and Hispanic (13 days).
The researchers also reported that of the 318,977 recalled mammograms that were recommended for biopsy, 238,556 biopsies (74.8%) were documented. They found lower biopsy rates in women who are ages 80 and above (71.5%), Black (71.5%), and American Indian (52.5%).
Additionally, they found that the overall median time from diagnostic evaluation to biopsy was 21 days. However, the team described longer median biopsy times in women who were ages 80 and above (23 days), Black (25 days), mixed or other race (26 days), and Hispanic (23 days). Finally, women living in rural areas or attending community hospitals had higher times to biopsy at 24 and 22 days, respectively.
The study authors noted that their findings were comparable to those reported by the Breast Cancer Surveillance Consortium, in which only 72.5% of diagnostic and 65.2% of biopsy recommendations had documented follow-up.
They also suggested that for elderly women, imaging facilities can offer same-day biopsies to reduce transportation demands. Additionally, patient navigators can provide support to women experiencing barriers to follow-up with diagnostic evaluation or biopsy recommendations.
"There is a need for more research efforts focused on evaluating ways to reduce these persistent racial and ethnic disparities in time to diagnostic resolution following an abnormal screening mammogram," the authors concluded.
The full results can be found here.