It takes a village to eliminate breast cancer disparities, according to commentary published November 1 in Population Health Management.
A team led by Scott Siegel, PhD, from the ChristianaCare Helen F. Graham Cancer Center & Research Institute in Delaware wrote a call to action for community members, healthcare providers, and other stakeholders to collaborate in tackling breast cancer disparities.
"A more targeted approach to prevention could make an outsized impact on reducing the overall burden of breast cancer while also narrowing racial disparities," Siegel told AuntMinnie.com.
While Black and white women are diagnosed with breast cancer at similar rates, previous research suggests that Black women have a 40% higher mortality rate. This includes higher mortality rates and risk of dying from advanced cancer, such as triple-negative breast cancer, for younger Black women under the age of 50.
These disparities are multifactorial in nature, with exposure to breast cancer risk factors, differences in tumor genomics, and access to health services interacting to produce these disparities.
Siegel and colleagues suggested a two-pronged approach in their commentary. This includes advising women to get regular mammograms starting at age 40. At the same time, mammography services should be equitable in availability and accessibility, they wrote.
The team also called for assessing formal breast cancer risk for women under 40. With this, high-risk younger women would be considered for screenings and other forms of prevention.
"By increasing screening rates in our hotspots, we stand to improve the odds of detecting breast cancer at an earlier and more treatable stage," Siegel said.
The researchers cited a similar village mentality approach that was successful in reducing disparities for colorectal cancer. ChristianaCare in 2001 was involved in the Delaware Cancer Consortium, which was formed to reduce cancer rates overall by focusing on underrepresented communities.
The consortium's efforts were successful in reducing incidences of colorectal cancer by 34% for Black Delaware residents via increasing colorectal screenings. This approach also reduced incidences 26% for white residents, the team reported. Additionally, colorectal cancer mortality decreased by 42% and 13% for Black and white communities, respectively. This eliminated a 60% higher mortality rate for Black people and the improvements sustained for over a decade, the researchers highlighted.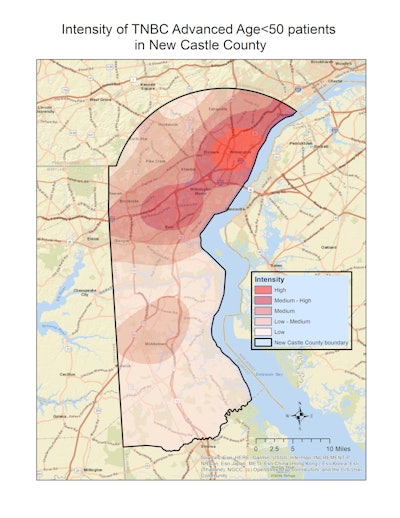 "The most important lesson I take from the [consortium's] prior efforts to successfully eliminate the racial disparity in colorectal cancer mortality was that it truly took a 'village,'" Siegel told AuntMinnie.com. "We need to have everyone involved, including the health systems, clinicians and other health workers, community members, community organizations and non-profits, advocates, policymakers, and researchers. We hope to get that village back together to repeat past successes in breast cancer."
For the ChristianaCare team's latest proposal, Siegel presented a plan to the Delaware Cancer Consortium's Advisory Council and Early Detection & Prevention Committee for statewide support. The institute in August received a $1 million grant to help purchase a state-of-the-art radiography system to analyze more breast cancer specimens at a faster rate. The grant will also expand a fellowship program to reduce cancer disparities, including support for the ChristianaCare team's breast cancer project.
The National Institutes of Health also awarded Siegel and Jennifer Sims Mourtada, PhD, director of translational breast cancer research at ChristianaCare, over $300,000 to study detection of epigenetic risk biomarkers for triple-negative breast cancer.
"We are committed to seeing this through and will fully engage with all other interested stakeholders to make an impact statewide," Siegel said.
The full commentary can be found here.