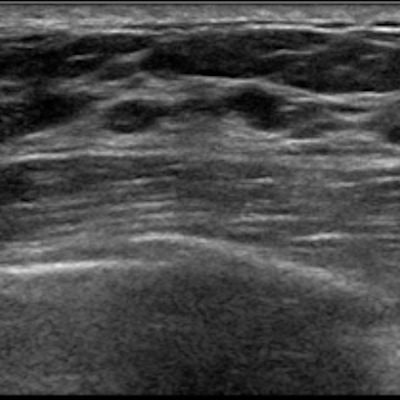 Ultrasound is highly beneficial for supplemental screening in women with dense breasts -- and it can also add value in women at highest risk of interval cancer or advanced breast cancer, suggest findings published June 12 in Cancer.
Researchers led by Brian Sprague, PhD, from the University of Vermont found that ultrasound is not being used as much on women who present for breast cancer screening and are at risk of mammography screening failure due to other risk factors beyond breast density.
"Radiologists can use this information to understand current practice patterns in the U.S. and consider strategies for more effective targeting of supplemental ultrasound screening to women who are most likely to benefit," Sprague told AuntMinnie.com.
Breast density has come under focus in recent years for breast cancer screening. The U.S. Food and Drug Administration (FDA) recently amended its Mammography Quality Standards Act to require reporting of breast density information by facilities.
No consensus guidelines
However, the researchers noted that despite ultrasound's increasing use in supplemental breast imaging, there are no consensus guidelines in the U.S. on which women should receive supplemental ultrasound screening following mammography. They also pointed out uncertainty among women, primary care providers, and radiologists.
Although ultrasound can detect cancers in dense breasts that were missed by mammography, some potential harms may still be in play, according to the authors. These include a recall for additional imaging and benign breast biopsy for false-positive cases.
The researchers wrote that the benefits and harms may be balanced through targeted ultrasound screening for women at high risk of mammography screening failure. Such failure may be caused by factors other than breast density, including family history of breast cancer, prior benign breast disease diagnosis, and obesity.
Sprague and colleagues wanted to explore breast cancer risk characteristics of women who have ultrasound screening performed. They used data from breast imaging facilities within three regional registries of the Breast Cancer Surveillance Consortium (BCSC).
The team also wanted to compare exam-level characteristics of women undergoing ultrasound screening to those of women undergoing mammography screening alone at the same facilities. This included characterizing risks of interval invasive cancer and advanced cancer.
The researchers included BCSC data collected between 2014 and 2020 from 38,166 screening ultrasounds and 825,360 screening mammograms without supplemental imaging. They found that 95.3% of the ultrasound exams were performed on women with heterogeneously or extremely dense breasts, compared with 41.8% of mammograms performed without supplemental screening (p < 0.0001).
The team also found that among women with dense breasts, high interval invasive breast cancer risk was prevalent in 23.7% of screening ultrasounds compared with 18.5% of screening mammograms without supplemental imaging (adjusted odds ratio [OR], 1.35). Additionally, intermediate-to-high advanced cancer risk was prevalent in 32.0% of screening ultrasounds versus 30.5% of screening mammograms without supplemental screening (adjusted OR, 0.91).
The researchers also found that the presence of other breast cancer risk factors was not strongly associated with ultrasound screening among women with dense breasts, which Sprague said was surprising.
Supplemental screening decisions
Sprague said based on the results, the team recommends that women and their healthcare providers consider other breast cancer risk factors in addition to breast density when deciding to undergo supplemental ultrasound screening. This includes using publicly available risk calculators such as the BCSC's.
"Women with elevated breast cancer risk and dense breasts, and all women with high advanced cancer risk despite routine mammography, should consider supplemental ultrasound screening," Sprague said.
He also told AuntMinnie.com that the researchers are evaluating the performance of supplemental ultrasound screening among women with dense breasts in community practice to better characterize its sensitivity and specificity according to patient characteristics.
"We are also working on the development of improved risk-prediction models for mammography screening outcomes by incorporating breast imaging features including artificial intelligence algorithms," he said.