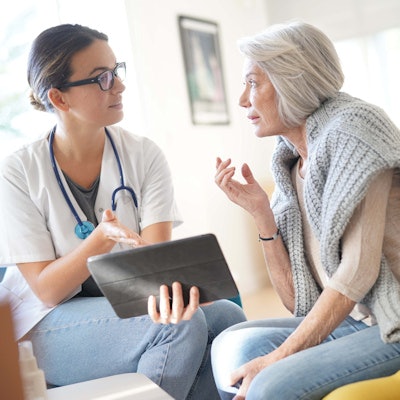 Many elderly women with a personal history of breast cancer still receive an annual screening mammogram. But they may not need it, suggests research presented at the American Society of Breast Surgeons (ASBS) annual meeting April 27 in Boston.
In a press briefing presentation, Dr. Elizabeth Berger of Yale Cancer Center in New Haven, CT, revealed that nearly seven out of 10 elderly women with a life expectancy of less than five years received a mammogram one year after treatment. However, few developed second breast cancers.
"The incidence of second primary breast cancers is still low in this population, and we definitely must consider competing mortality risks when considering surveillance mammography in this population," Berger said.
Surveillance mammography is common practice for imaging women who have already been treated for breast cancer since they are at an elevated risk of developing a second breast cancer.
Meanwhile, experts have debated whether elderly women should continue receiving annual mammograms, with previous research suggesting that elderly women in general still undergo annual mammography.
For elderly women with a personal history of breast cancer, critics say that ongoing surveillance imaging may lead to overdiagnosis and overtreatment of cancers that may not be harmful if left untreated due to competing mortality risks based on age or comorbidities.
Berger and colleagues wanted to characterize current mammography patterns for elderly women with a personal history of breast cancer, taking life expectancy into consideration.
They collected data from Medicare claims and the Surveillance, Epidemiology, and End Results (SEER) Program for 44,475 women diagnosed with breast cancer at an age of 67 or older. Of the total, 13,217 women were in the age range of 80 to 100 years. The women were initially diagnosed with breast cancer between 2003 and 2007 and received follow-up surveillance mammograms through 2017 or when they died. The researchers estimated life expectancy using age and comorbidity information from the claims data.
The team reported that of the total study population, 26% had a life expectancy of less than five years, 36% six to 10 years, and 38% over 10 years. Also, 72% had hormone-receptor-positive cancer. While the majority of cancer cases were stages I or II, the team also included data from 8,706 cases of ductal carcinoma in situ (DCIS). Additionally, 2,759 stage III cancers were included.
The researchers found that one year after receiving treatment, 68% of women with less than five years of life expectancy received a mammogram. Also, three years after receiving treatment, 53% of women with this life expectancy had received three mammograms.
They also found that the cumulative incidence of second primary breast cancer diagnoses was 3.7% in women with less than five years of life expectancy, 4.9% for six to 10 years, and 7.6% for over 10 years.
Berger said that counseling these women for deciding whether to continue surveillance mammography is part of health providers' responsibility to consider its value on a case-by-case basis.
"Not all 85-year-old women are the same, and it's hard to calculate life expectancy," she said. "But I think for women who have cardiovascular disease or maybe on dialysis or even have other competing mortality risks, those are very different 85-year-olds than those who otherwise are healthy and out taking walks every day."
Berger added that the team recently received funding to start evaluating the potential benefits and harms of surveillance mammography practices in these women, exploring false-positive cases, overdiagnosis, and overtreatment.
"That will hopefully be our next step for this data," she said.