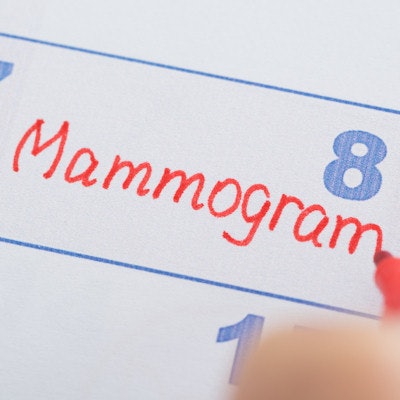 Being too reliant on digital tools for tasks such as patient scheduling can heighten healthcare disparities seen in breast cancer screening, suggests a study published August 30 in Radiology.
Researchers led by Dr. Peter Abraham from the University of California, San Diego found that women who used computers for healthcare-related tasks were more likely to report undergoing annual breast cancer screening. They also found that these women were more likely to be younger, have higher income, have health insurance, are white, and have higher education levels.
"Radiology practices and healthcare leaders must collaborate better with underserved communities to co-create feasible and scalable digital interventions," Abraham et al wrote.
Patients are using digital healthcare tools more than ever, with the COVID-19 pandemic making applications like patient portals and telehealth necessary. While these can help improve access to preventive care services like cancer screening, they may also unintentionally contribute to disparities already seen in healthcare, due to lower rates of technology adoption among underserved populations.
Abraham and colleagues wanted to find out the potential impact on breast cancer screening disparities of online scheduling for healthcare appointments. To do that, they identified patient characteristics tied to the use of computers to schedule appointments. They also explored whether the use of computers by patients for healthcare-related tasks are more likely to use breast cancer screening.
The team looked at retrospective data from 7,255 women, 1,197 (18%) of whom reported using a computer to schedule an appointment with a healthcare provider. Data about the women came from the 2018 National Health Interview Survey. The women were between the ages of 40 and 74 and did not have a history of breast cancer.
Sociodemographic differences of women using online appointment scheduling for breast cancer screening
Did not use computer to schedule appointment
Used computer to schedule appointment
College education or higher
61.5%
84.7%
Less than college-level education
38.5%
15.3%
Household income (average)
$80,248
$112,735
Employed
59.1%
72.6%
Unemployed
40.9%
27.4%
Insured
91%
96.4%
Uninsured
9%
3.6%
The researchers also found that when accounting for race and ethnicity, more white women used computer appointment scheduling than traditional scheduling methods (72.7% vs. 64.5%). Meanwhile, online scheduling use was not as prevalent for Hispanic (9.7% vs. 15.7%), Black (10.3% vs. 12.7%), and women reported as "Other" (0.7% vs. 1.2%) when compared with women using traditional scheduling.
The team also found that annual screening mammography use was positively associated with computer use for several healthcare-related tasks, represented by higher odds ratios (OR). These included looking up health information on the internet (OR, 1.4), filling a prescription (OR, 1.6), scheduling an appointment with a healthcare provider (OR, 1.4), and communicating with a healthcare provider by email (OR, 1.6). All data in this area achieved statistical significance.
The study authors suggested several interventions radiology practices and healthcare providers can do for underserved communities. These include identifying broadband coverage gaps, employing broadband and smartphone device subsidies, implementing community-driven digital literacy programs, and employing digital navigators, among others.
However, they also noted that there is a continued need for traditional outreach interventions, such as traditional scheduling methods, community outreach, and mobile mammography vans.
"Intentional planning and user-centered design of health technologies paired with community-based participatory approaches will help to ensure that the expansion of digital outreach platforms supports equitable access to imaging technologies," they wrote.