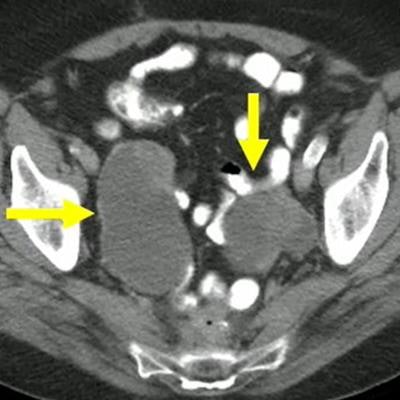 Transvaginal ultrasound (TVUS)-guided biopsy can safely and effectively biopsy pelvic lesions, according to research presented April 19 at the American Roentgen Ray Society (ARRS) annual meeting in Honolulu.
Presenter Dr. Meghan Lubner from the University of Wisconsin discussed her team's findings from their 20-year study, which showed that this method leads to "excellent" diagnostic yield, is safe, and significantly decreases distance to target.
"It can really enable targeting of these challenging deep pelvic targets," she said. "It's something that we should consider when targeting these types of lesions."
Maintaining viable tissue at the site of disease is important for tailoring treatment decisions. The complex anatomy of the pelvic region can make determining the best treatment options for women with pelvic lesions tricky. TVUS shows promise for offering better staging for deep pelvic targets for access without disturbing vulnerable structures. Lubner noted that there are previous studies assessing TVUS biopsy, but he added that data on core biopsies are lacking.
Lubner and colleagues sought to evaluate the diagnostic yield and safety profile of TVUS-guided biopsy and aspiration. They reviewed a total of 96 TVUS-guided biopsy procedures performed between 2000 and 2021 in 96 women. Procedures the women underwent included core-needle and fine-needle aspiration; they also underwent preprocedure CT/MRI.
The researchers found that a TVUS-guided approach significantly decreased the distance to the biopsy target by an average of 10.7 mm; transabdominal ultrasound had an average distance to biopsy target of 86 mm (p < 0.0001).
Also, the average lesion size on TVUS was 40 mm. Targets at or above the vaginal cuff and up to above the acetabular roof were also accessible.
The team also reported that 75 (78%) cases were core biopsies and 21 cases were fine-needle aspirations. Conscious sedation was used in 84.4% of cases, while local anesthetic was also used in 84.4% of cases.
The TVUS method showed an overall diagnostic yield of 98.9, Lubner noted.
"One of the potential advantages of transvaginal ultrasound is that it really has great resolution for identifying solid components that we can target for biopsy," she said.
The team's results show that although this method can be labor-intensive -- since it's a two-person job -- TVUS-guided biopsy has a high safety profile and does not need to traverse more area to targets than transabdominal ultrasound, Lubner concluded.