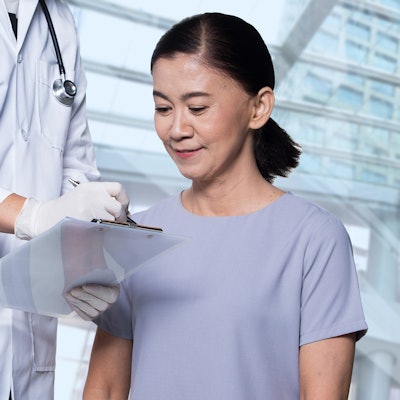 Black and Asian women are disproportionately affected by the presence of uterine fibroids found on transvaginal ultrasound (TVUS) compared to other women, according to a study published May 10 in JAMA Network Open.
Researchers led by Dr. David Huang from the University of California, San Francisco found that while fibroids are present in about one in five women, about 35% of Black women and about 21% of Asian women who participated in their study had fibroids shown on ultrasound, compared with about 10% of white women.
"We hope our findings will motivate appropriate recruitment of disproportionately affected groups in clinical trials so that health disparities associated with this pathology could be mitigated," Huang told AuntMinnie.com. "Health disparities in Asian women with fibroids should also be investigated."
Uterine fibroids are the most common neoplasm affecting females. The presence of these fibroids is tied to subfertility and early pregnancy loss and negatively affect obstetrical outcomes.
The researchers also noted that the prevalence of uterine fibroids, especially in Hispanic or Latina and Asian female individuals in the U.S., remains unknown. They added that it's not clear how prevalent fibroids are in young, asymptomatic female individuals.
Huang and co-authors wanted to estimate the proportion of women with uterine fibroids using a diverse, nonclinical, community-based study population consisting of reproductive-age women.
They collected data from 996 women with an average age of 35 years. This included 299 Asian women, 249 Black women, 237 Hispanic or Latina women, and 281 white women. All women underwent TVUS, which the researchers noted is a "highly sensitive and specific method in ascertaining fibroid burden."
The team found that fibroids were present in 199 women (20%). However, Black and Asian women had a higher proportion of fibroid presence compared with White and Hispanic or Latina women.
Uterine fibroid presence and characteristics in women
White
Hispanic or Latina
Asian
Black
p-value
Presence of fibroids
10.7%
12.7%
21.8%
35.7%
N/A
Proportion of multiple fibroids
33.3%
33.3%
26.0%
48.3%
0.06
Largest average fibroid diameter
3.2 cm
3 cm
3.2 cm
3.9 cm
0.03
Furthermore, Black and Asian women were statistically more likely to have fibroids than white women; Black women had an adjusted odds ratio of 4.72 (p < 0.001) for fibroids and Asian women had an adjusted odds ratio of 3.35 (p < 0.001) compared to reference.
Huang said this information will help researchers better understand how fibroids with certain characteristics may negatively impact reproductive health and should be proactively treated. The results stem from the University of California San Francisco Ovarian Aging Study, a longitudinal study of reproductive aging.
"Moving forward, I think it is important to have detailed documentation of fibroid size and location, especially in relation to the endometrial cavity," he told AuntMinnie.com. "A topic I hope to study is to better understand the natural course of uterine fibroids across a women's lifespan, which would also provide invaluable information for patient education and counseling."