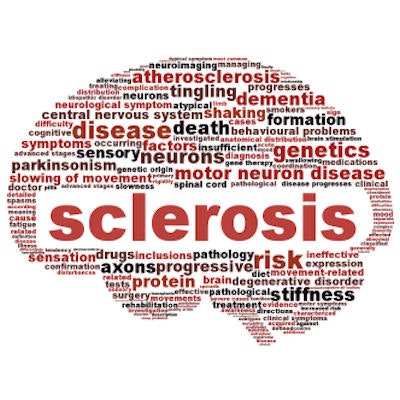 Ultrasound imaging reveals vascular factors associated with multiple sclerosis (MS), which may help clinicians better understand the disease, suggests research published December 15 in the Journal of Medical Imaging and Radiation Sciences.
A team led by Dr. Merlisa Kemp from Cape Peninsula University of Technology in South Africa found through ultrasound imaging that people with MS who have increased carotid intima-media thickness values -- a surrogate marker for atherosclerosis -- and reduced carotid artery blood flow velocities were at risk for greater disability.
"Since the carotid intima-media thickness is a reflection of vessel wall patency in the brain, this finding provides important information for disease management of people diagnosed with MS," Kemp and colleagues wrote.
Multiple sclerosis is an immune-related disorder, but pharmaceutical interventions targeting the immune system do not stop or reverse the progression of disability caused by the disease, the group noted. Previous research has suggested that disability progression is linked to vascular disease and brain volume loss and that any interventions need to target multiple areas to stop further debilitation.
Kemp and colleagues assessed any links between vascular ultrasound, disability, biochemistry, and lifestyle in people with MS, analyzing data from 51 participants who underwent extracranial vascular ultrasound; average age of these patients was 48 and average age of disease onset was 36. The study also included 25 healthy control group participants. Ultrasound helped determine carotid intima-media thickness and abnormal blood flow patterns.
The researchers used the Expanded Disability Status Scale to measure disability, which ranges from zero (healthy) to 10 (death due to MS). Factors tied to higher scale scores included higher cholesterol levels, lower levels of physical activity, lower vitamin D levels, and smoking; the MS cohort in the study had an average score of three, indicating moderate disability in one functional system or mild disability in three or four functional systems.
The team found that higher scores on the disability status scale had a significant association with carotid intima-media thickness of both right and left common carotid arteries and that there was significant negative association with the peak systolic blood flow velocity of the right vertebral artery and end-diastolic velocity of the left internal carotid artery
"These associations were significantly influenced by biochemical and lifestyle factors," the authors wrote.
The study findings suggest that it may be beneficial for MS patients to modify their diet and lifestyle for better flow of essential factors such as oxygen and nutrients through the blood-brain barrier into the brain, according to the investigators.
"If [our findings are] confirmed by further studies, [they] may lead to a better understanding of disability prevention in MS," they concluded.