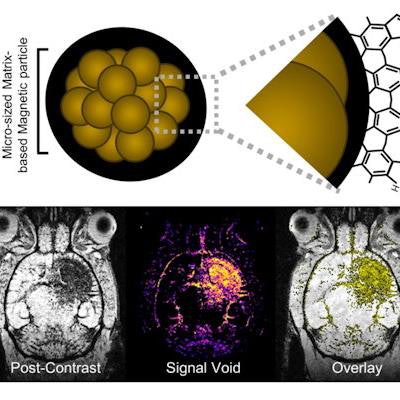 TORONTO - Magnetic particle imaging (MPI) with new iron oxide-based contrast agents shows promise for visualizing neuroinflammation, according to a presentation at the International Society for Magnetic Resonance in Medicine (ISMRM) meeting.
In a basic science session on neuroinflammation on June 4, Maxime Gauberti, MD, of Normandie University in Caen, France, presented preclinical research involving imaging of endothelial cell activation in mice to reveal inflammatory processes in the brain. The research presents new developments decades in the making, he said.
"The ability to detect a molecular target in the central nervous system noninvasively and at high spatial resolution using MRI has attracted the interest of researchers for several decades," he said.
Neuroinflammation is a key immune response observed in many neurological and neurodegenerative diseases. Currently, MRI of neuroinflammation relies on two main imaging features – edema and blood-brain barrier leakage -- yet these features are not specific for inflammation and the diagnosis of inflammatory lesions of the central nervous system remains a challenge, Gauberti explained.
One problem is that current contrast agents such as gadolinium do not cross the brain's protective blood-brain barrier unless there is leakage due to injury, for instance. Moreover, particles must be smaller than 50 nanometers to escape being cleared from the brain by the body's immune system and they need to be present in high enough amounts to be detected by imaging, he said.
To solve these issues, Gauberti and colleagues are targeting a cellular process called leukocyte-endothelial cell adhesion, which is triggered by injury to brain tissue. During the process, activated leukocytes migrate from the bloodstream to the sites of injury and drive inflammation, which destroys healthy cells.
To visualize this process, the researchers synthesized microparticles of iron oxide (MPIO) that are small enough to cross the blood-brain barrier and that bind to these leukocyte-endothelial cell interactions. Once injected, the MPIO agents bind to the sites where they are detected on imaging.
In studies in mice, the so-called "Immuno-MRI" technique looks promising, and it has revealed neuroinflammation compared to normal subjects, Gauberti said.
Ultimately, one goal of these preclinical studies is to eventually combine conventional MRI with these molecular imaging techniques to aid in the diagnosis of diseases associated with neuroinflammation, such as Alzheimer's disease.
Gauberti added that the research has recently received a boost with the development of specific scanners dedicated to magnetic particle imaging, with one installed recently at his group's center in Caen.
"We can expect in the future the development of magnetic particle imaging as a new modality to look at more neuroinflammation information with these techniques," Gauberti concluded.