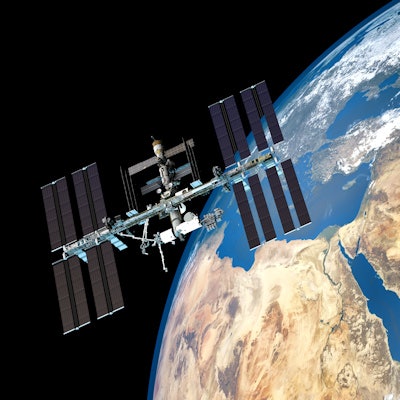 Does an astronaut's heart beat differently in space? A collaboration between artificial intelligence (AI) software developer Ultrasight and GE Healthcare will help answer the question in a study during an upcoming mission to the International Space Station.
Ultrasight's AI cardiac imaging software has been installed on GE's handheld GE Vscan Air scanner, a wireless pocket-sized color ultrasound device. The system will blast off to the International Space Station in January 2022 as part of Axiom Space's first manned private low-earth-atmosphere mission.
The goal of the study is to demonstrate how accurate cardiac ultrasound images can be acquired anywhere -- even in space -- and how AI guidance has the potential to enable successful scanning with limited training, Ultrasight said. During the mission, Lt. Col. Eytan Stibbe, the first Israeli flying to the International Space Station, will use Vscan Air to acquire his own cardiac images, independent of trained medical professionals or ground mission control.
"Space agencies are looking for an ultrasound solution with the features provided by GE Healthcare and UltraSight not only for the international space station, but to also assist with upcoming missions including Artemis to the moon, and soon after to Mars," said Dr. Eran Schenker, chief innovation medical officer of the Israeli Aerospace Medicine Institute, in a news release.
The outcomes of the cardiac study could potentially benefit millions of cardiology patients worldwide, particularly in underserved communities where access to echocardiography labs and large medical systems is limited, Ultrasight said.
The Israeli side of the mission is dubbed "Rakia," Hebrew for sky, after the diary of fallen astronaut Ilan Ramon, who wrote it aboard the Columbia shuttle before it disintegrated on reentry into the atmosphere in 2003.
The UltraSight AI guidance software is currently pending approval for medical use in the U.S. and European markets, the company said.
This will not be the first time a GE Healthcare ultrasound device has been used in space, officials added. In July 2011, GE Healthcare's Vivid q cardiovascular ultrasound system was delivered to the International Space Station aboard the final flight of the space shuttle Atlantis and was used for onboard research.