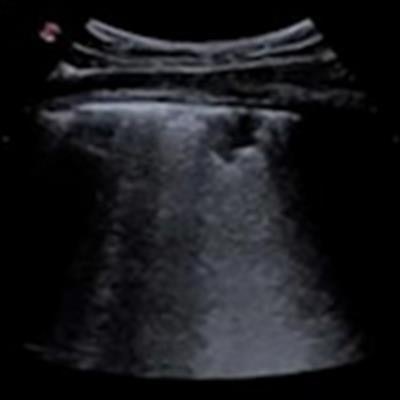 The COVID-19 pandemic has driven internal medicine physicians in Italy to increasingly rely on ultrasound as part of their daily physical examinations, according to a webinar corresponding with the Acoustical Society of America (ASA) virtual meeting this week.
"It's like a third arm that could help evaluate our patients looking at the inside," said Dr. Umberto Sabatini, PhD, a third-year internal medicine resident at Policlinico San Matteo Hospital in Pavia, Italy.
The hospital's increased focus on ultrasound began when it became one of the first to experience a surge of patients with COVID-19 earlier this year. The large influx of patients and limited radiology resources forced administrators to only allow the use of CT scans for ruling out pulmonary embolism.
"It was a limitation of management of the radiation team in our hospital," Sabatini said. "We couldn't afford CT scans for all of our patients due to the fact of the pandemic and the number of patients coming to our ward."
Without the availability of CT, Sabatini and colleagues turned to ultrasound for most lung imaging needs. Since then, the hospital's ultrasound-savvy colleagues have been performing lung ultrasound scans "every morning, every day, and every night."
"It changed our day-to-day practice to evaluate features that might help in clinical management," Sabatini said.
During the webinar, Sabatini also shared research he presented on December 10 at the ASA meeting demonstrating the benefit of lung ultrasound scans as a diagnostic tool for COVID-19. He and his colleagues found that the total lung ultrasound score on admission to the hospital was associated with higher odds of a patient's condition worsening.
The study was based on lung ultrasound scans of 52 patients with confirmed COVID-19 cases who were admitted to the Pavia hospital between March 15 and April 29. Sabatini and colleagues performed lung ultrasound scans on the patients, then used those scans to calculate lung ultrasound scores.
Patients with worse lung ultrasound scores at admission were more likely to experience a continued worsening of their clinical condition. Patients with the worst score in three different lung sections had a six times greater chance of experiencing worsening outcomes.
Conversely, ultrasound findings improved as patients recovered. The proportion of patients with severe disease decreased significantly among patients with a second ultrasound scan after 10 days in the hospital -- a finding that "underlies the importance of lung ultrasound for patient monitoring," Sabatini said.
The findings add to prior research demonstrating that lung ultrasound scans and associated lung ultrasound scores can help clinicians quickly determine the severity of COVID-19 infection. Sabatini added that this information can also be used to inform patient management and medication decisions.
While the new research focused on the use of lung ultrasound, Sabatini praised ultrasound's other merits, too, especially its use for abdominal imaging. Based on his experience, he thinks the modality will be a staple for physicians long after the pandemic is over.
"Ultrasound is now part of the physical examination," he said. "Starting from now, I really suggest all doctors, all colleagues, to use ultrasound."