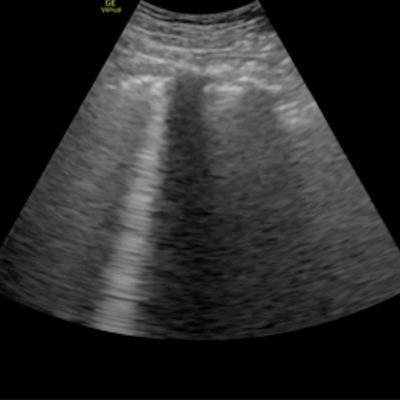 Lung ultrasound showed similar accuracy to CT for patients with COVID-19 in a study published on July 13 in Ultrasound in Medicine & Biology. Based on the findings, the authors recommended ultrasound as a first-line resource for patients with confirmed and suspected novel coronavirus infection.
Lead study author and Spanish emergency physician Dr. Yale Tung Chen performed ultrasound scans on more than 50 patients with confirmed or suspected cases of COVID-19. In his team's analysis, lung ultrasound identified all patients with COVID-19 and had better alignment with CT than chest radiography.
"[Lung ultrasound] presents similar accuracy compared to chest CT to detect lung abnormalities in COVID-19 patients," wrote Chen and his colleagues from the La Paz University Hospital in Madrid and Reina Sofia University Hospital in Cordoba.
CT is considered the gold standard for COVID-19 chest imaging due to its incredible sensitivity and specificity, but it also exposes patients to radiation and has infection control challenges. Although multiple studies have proposed using ultrasound as an alternative to CT, no prior studies have compared the effectiveness of the two modalities for COVID-19.
In their new study, Chen and colleagues enrolled 51 consecutive patients who visited the emergency department of an academic hospital in Spain. The patients either had a positive SARS-CoV-2 reverse transcription polymerase chain reaction (RT-PCR) test or had symptoms highly suggestive of COVID-19.
Chen conducted point-of-care ultrasound scans on all patients using a 12-zone protocol. Each zone was assigned a lung ultrasound score (LUS), with higher scores indicating more severe disease.
All patients in the study also underwent chest CT scans, which were read by two radiology trainees under the supervision of a senior radiologist. The radiologists calculated a total CT severity score, and like with a LUS, a higher CT severity score represented more severe lobar involvement.
Out of the 51 patients in the study, 37 patients had findings suggestive of COVID-19 on CT and 40 had COVID-19-like findings on ultrasound. Statistical analysis revealed significant agreement between lung ultrasound and CT findings, including an ultrasound sensitivity of 100%, specificity of 79%, and positive predictive value of 93%.
"With this technique, the proportion of false-negative rates will be really low, which in this pandemic is a key question in order to avoid additional infections," the authors wrote.
Patients' lung ultrasound scores also had good correlation with their CT severity scores. Both LUS and CT scores were strongly correlated with patients' oxygen saturation, respiratory rate, and inflammatory markers, although the relationship was stronger for ultrasound.
Notably, Chen also used ultrasound to identify left ventricular dysfunction and pericardial effusion in one patient with COVID-19 who didn't have any abnormal lung findings on ultrasound or chest CT. This highlighted the usefulness of ultrasound to identify other types of COVID-19 complications, a benefit that has been documented in other studies.
While ultrasound showed good agreement with CT, the same wasn't true for chest radiography or nasopharyngeal testing. Chest radiography showed no association with CT and a weak but statistically significant relationship with lung ultrasound, the authors noted. Furthermore, lung ultrasound was a better predictor of abnormal CT findings than RT-PCR tests.
The main drawback of lung ultrasound is that the modality can lead to disease misclassification, as it did for three patients in this study who were ultimately diagnosed with viral bronchitis and pulmonary metastatic disease based on CT findings. Nevertheless, the authors felt confident recommending ultrasound as an imaging tool for COVID-19 based on its excellent sensitivity, ease of infection control, and portability.
"As the shortage of resources constitutes an undeniable public health threat, we consider [lung ultrasound] to be a potential solution and recommend that it should be performed as a first-line and follow-up imaging test for COVID-19 patients," the authors wrote.