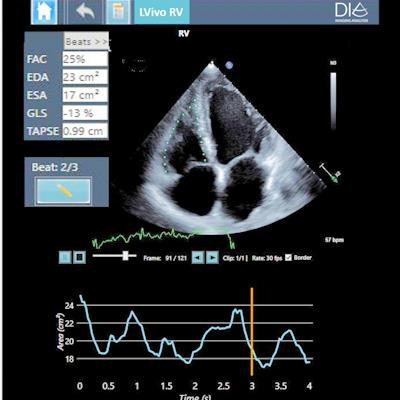 Echocardiography image analysis software developer DiA Imaging Analysis has received U.S. Food and Drug Administration (FDA) 510(k) clearance and the European CE Mark for use of its artificial intelligence (AI)-based ultrasound algorithms for patients with COVID-19.
LVivo RV is an AI-based algorithm for automated analysis of the heart's right ventricle and can be used to diagnose and monitor right heart ailments in acute and chronic patients, including those with COVID-19. LVivo Bladder uses AI to deliver automated bladder volume measurements on ultrasound devices, which minimizes scan time and infection risk, according to DiA.
Both algorithms are available as part of DiA's LVivo Toolbox, which now includes six FDA/CE-cleared AI-powered ultrasound algorithms. What's more, LVivo Bladder extends DiA's range of applications from its core market of cardiac ultrasound into abdominal imaging.