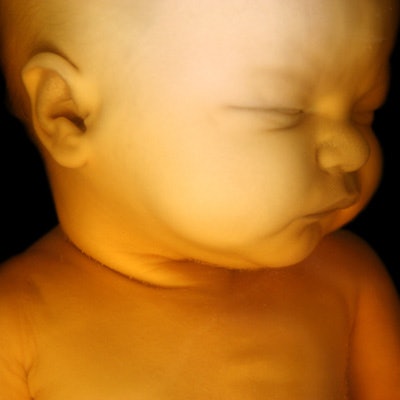 Incidental maternal findings are common on fetal MRI exams but only rarely require follow-up, workup, or management, according to research published online February 16 in Clinical Radiology.
Researchers led by Dr. Martha Ruiz from University of Alberta Hospital in Canada found that such findings, which include umbilical hernias, maternal hydronephrosis, and maternal hydro-ureter, among others, are detected in nearly 60% of women. However, less than 1% of these findings showed clinical significance.
"Specific assessment of included maternal anatomy in the large field of view sequences during fetal MRI assessment can help identify rare but clinically important maternal findings in some patients," Ruiz and co-authors wrote.
Although ultrasound is the gold standard in fetal imaging, MRI is used in troubleshooting situations. These include instances when ultrasound exams are considered suboptimal, for confirming suspected abnormalities found on ultrasound, for investigating MRI-specific information, and for assessing abnormalities that may be undetected on ultrasound.
However, the researchers pointed out that "several" maternal gynecological and nongynecological structures are included routinely within the field of view. Also, gas-filled or highly dense structures may not be found on ultrasound, but they are possibly assessable on MRI.
Ruiz and colleagues wanted to evaluate the type and frequency of maternal findings incidentally identified during fetal MRI. They looked at data from 455 consecutive fetal MRI exams from 429 women with an average age of 30 years, performed between 2017 and 2021.
Two fellowship-trained radiologists reviewed the exams independently to determine the type and frequency of incidental maternal findings. Differences in acquisition were resolved by two-reader consensus.
The researchers found that at least one incidental maternal finding was identified in 58% of the exams (n = 265). The most common findings included umbilical hernias (35%), maternal hydronephrosis (19%), and maternal hydro-ureter (15%). In total, 70% of all incidental maternal findings were related to pregnancy status.
The team also reported that two exams (0.5%) showed clinically significant incidental maternal findings, including pancreatic pseudocyst and ovarian cyst.
The study authors reported that their results "resemble the high indolence rate reported in other studies as well."
They also wrote that while blinded, prospective, multicenter comparative study designs of incidental maternal findings in fetal ultrasound versus MRI would serve as the ideal benchmark, this study design would be impractical based on cost and current best practices.