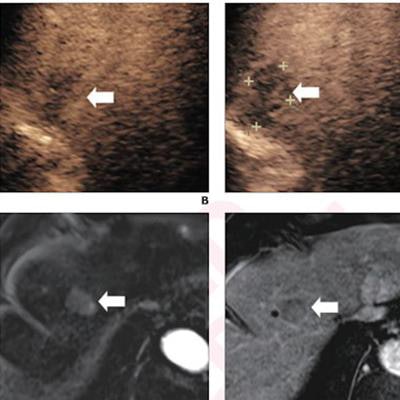 Applying modified contrast-enhanced ultrasound (CEUS) criteria using perfluorobutane is effective in diagnosing liver cancer in high-risk patients, according to study published November 16 in the American Journal of Roentgenology.
A team led by Dr. Lingling Li from the Sun Yat-Sen University Cancer Center in Guangzhou found no significant differences between using this criteria and CT/MRI LI-RADS, suggesting that the CEUS method can be used as a first-line way to characterize or evaluate lesions.
"The modified CEUS criteria, compared with CT/MRI LI-RADS version 2018, showed no significant difference in terms of sensitivity, specificity, or accuracy in characterizing lesions as HCC in high-risk patients," Li and colleagues wrote.
Contrast-enhanced CT and MRI have served as the standard for noninvasive imaging tests in diagnosing hepatocellular carcinoma (HCC). However, CEUS has been explored in this area in recent years.
CT/MRI LI-RADS version 2018 (v2018) and CEUS LI-RADS version 2017 (v2017) both classify liver observations in high-risk patients according to the likelihood of HCC. The categories range from LR-1 (definitely benign) to LR-5 (definitely HCC).
The LR-5 category on CEUS shows "very high" specificity but has lower sensitivity than CT/MRI. But perfluorobutane microbubbles for CEUS have a particular phase called Kupffer that enhances liver parenchyma -- an effect not seen when CEUS is performed using conventional contrast agents, the group noted. They suggested that these Kupffer-phase findings could improve sensitivity in the LR-5 category.
Li and colleagues put this method to the test using modified LI-RADS against the performance of contrast-enhanced CT or MRI using LI-RADS v2018 for characterizing lesions as HCC in high-risk patients.
They included data from 171 patients. Of these, 114 had HCC, 43 had non-HCC malignancies, and 14 had benign lesions.
Researchers found no significant differences between the two methods.
Comparison between CEUS, CT/MRI methods in characterizing HCC in high-risk liver patients (LR-5 category)
CT/MRI
CEUS
Sensitivity
89.5%
92.1%
Specificity
84.2%
87.9%
Accuracy
87.7%
90.6%
The investigators also reported that the modified CEUS criteria using perfluorobutane assessed one observation as LR-3 (benign lesion) and five as LR-5 (all HCC). These findings were originally categorized as LR-4 only by the CT/MRI method.
The researchers called for prospective multicenter studies with larger sample sizes to confirm their results but emphasized that the CEUS method has potential for first-line lesion characterization or for second-line evaluation after LR-4 or LR-M assessment by CT/MRI LI-RADS v2018.