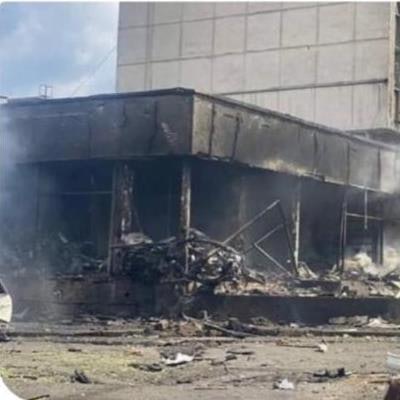 The owner of an imaging facility in Vinnytsia, 200 km southwest of Kyiv, has confirmed that a Russian cruise missile attack killed at least 24 civilians and wounded dozens more, including staff members.
The attack by a Russian submarine in the Black Sea occurred in a densely populated area at 10.42 a.m. local time on Thursday, July 14, while dozens of Ukrainian radiologists were attending ECR 2022.
The missile destroyed a medical facility, offices, and damaged nearby residential buildings, Dr. Oleksandr Kapitan, owner of the Neuromed center, told AuntMinnieEurope.com in a phone interview on 15 July.
"The missile landed 10 meters from our entrance. Everything is destroyed," he said.
Speaking from near the burnt-out shell of the facility, he recounted how people were waiting in their cars in the car park outside when the missile hit.
"There are 50 burnt-out cars in the car park. Anyone sitting in them was burnt alive immediately, including a child whose father had gone into the center alone to get his results," said Kapitan, who was 2 km away from the site when the missile struck but was on the scene within 15 minutes.
The single-story facility is located in a square, adjoined to a tall nine-story office block where people have private businesses. Around the square there are cafés where people take their coffee breaks or wait for appointments, he noted.
"This is a well-known civilian area, not a military target, and the Russians know this," Kapitan said. "It was a busy time of day. We're now hearing that 30 people were killed in the car park alone, of these perhaps half were our visitors including patients."
After the attack, at least 35 people were sent for serious surgery to city hospitals, he added.
Kapitan also confirmed that two young employees of the center, a manager and an administrator were tragically killed in the strike. The administrator, Catherine Gula, had been visiting the center to pick up documents, while manager Tatiana Kharchenko was on duty near the reception. She leaves behind a 7-year-old son.
Two consultant neurologists have sustained life-threatening injuries, one of whom has a poor prognosis, according to Kapitan.
"When the siren sounded a patient was undergoing an MRI and the doctors performing the exam continued. Miraculously, these people survived," he said.
The center, which housed one 1.5-tesla MRI unit, three ultrasound machines, and five rooms for specialty consultations, is part of the Neuromed network of imaging and surgical centers across Ukraine. Neuromed also has other modalities in different locations across Vinnytsia that were not affected by the blast, including five MRI systems and two CT scanners.
Kapitan underlined that Vinnytsia is normally a calm, quiet place.
"We are 500 km from the front line. Around 175,000 people fled to this region for safety when the war started. Vinnytsia is also a 'medical' city where we have our national medical university and many different healthcare businesses. Everything is civilian here. This attack bears no relation to humanity," he said.
President Volodymyr Zelensky described the attack as an "act of Russian terror," according to a Reuters news report. Meanwhile, a senior regional emergency service official said there was probably no chance of finding any more survivors under the rubble in Vinnytsia, which had a population of about 370,000 before Russia's invasion, the report continued.
The strike, which Ukraine said had been carried out with Kalibr cruise missiles launched from a Russian submarine in the Black Sea, came a day after a breakthrough in talks between Moscow and Kyiv to unblock Ukrainian grain exports. According to the news service, officials reported that three missiles had been launched but Ukrainian forces had managed to shoot down the other two.
In addition to the rising death toll, there were believed to be around 50 people injured and 15 people unaccounted for. It is reportedly one of the deadliest single strikes on a civilian target since Russia invaded on February 24.
So far, the Russian defense ministry has not commented on the reports from Vinnytsia, but to date, it has denied deliberately targeting civilians and states its forces have not committed war crimes.
Editor's note: Neurologist Dr. Natalya Falshtynska, who was seriously injured in the attack, died in hospital on July 19, taking the death toll to 25, according to media reports.