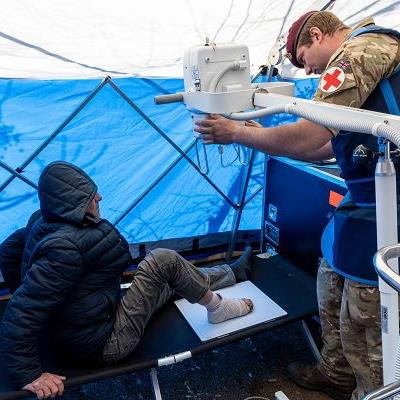 A British Army sergeant says he was the only working radiographer in a 180-mile radius after arriving with a medical team to help people injured in earthquakes in Turkey, according to a February 21 post on the army's news site.
Seargeant Daniel Lewis, 30, was deployed with the 16 Medical Regiment to Türkoğlu, a town close to the epicenter of a 6.4 magnitude quake that shook the area on February 13. It is near the same region devastated by earthquakes two weeks ago that killed almost 45,000 people and toppled thousands of buildings.
"The bus pulled up and I was taken straight up to the Turkish clinic, where there was an x-ray machine and no one to operate it, but a long queue of patients," Lewis said. "There have been a lot of crush injuries, from people who got trapped in buildings or hit by falling rubble and have then had to make their way to the clinic from some distance away."
The hospital at Türkoğlu where Lewis' regiment is set up had a radiology department with 12 full-time staff before the earthquake struck, according to the post.
"Unfortunately, the building is too damaged to reopen and none of the radiographers have come back to work -- in fact, the first patient I x-rayed was one of the radiographers who had a broken back," Lewis said.
The 16 Medical Regiment's core role is to provide medical support to 16 Air Assault Brigade Combat Team, the British Army's global response force, the article explained. The regiment is based in Colchester, England, and is trained and equipped to deploy at short notice by parachute, helicopter, or air landing.
"The gratitude I've had from patients has been amazing and I feel I'm helping by being here, and that's my reward," Lewis noted.