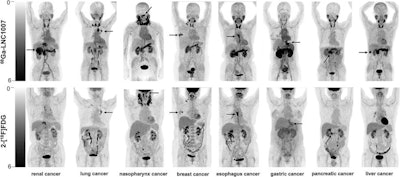 New evidence suggests that PET/CT imaging with a gallium-68 (Ga-68)-labeled heterodimeric radiotracer is highly effective for visualizing various types of malignant cancer, according to a group in China.
In a head-to-head comparison, researchers at Fujian Medical University in Fuzhou found that Ga-68 LNC1007 revealed significantly more tumors on imaging than established F-18 FDG and Ga-68 FAPI-02 tracers. Ultimately, the evidence points toward specific cancers where the tracer may have the most impact on patient care.
"[Ga-68 LNC1007] may be a better alternative to F-18 FDG for diagnosing renal cell carcinoma, hepatocellular carcinoma, skeletal metastases, and peritoneal metastases," wrote lead author Jie Zang, MD, and colleagues, in an article published in the October issue of Clinical Nuclear Medicine.
Ga-68 LNC1007 is a heterodimer radiotracer made by chemically combining separate ligands, one that targets fibroblast activation protein (FAP) and another that binds to a tripeptide called arginine-glycine-aspartic (RGD). These targets play key roles involved in the growth of cancer cells.
Zang and colleagues hypothesized that this dual-targeting approach could increase uptake of the radiotracer by tumors and thus would be more effective than using monomer tracers such as F-18 FDG or Ga-68 FAPI-02 alone.
In a previous study, the group evaluated the clinical feasibility of Ga-68 LNC1007 (then known as "Ga-68 FAPI-RGD") PET/CT in 22 patients. In this study, the study authors aimed to further explore its use by including more tumor patients and tumor types. They also compared it with F-18 FDG and Ga-68 FAPI-02 PET/CT.
The researchers enrolled 61 patients with 10 different kinds of cancers. All patients underwent Ga-68 LNC1007 PET/CT scans and either F-18 FDG or Ga-68 FAPI-02 PET/CT within one week. All PET images were then evaluated by two experienced nuclear medicine physicians.
Ga-68 LNC1007 PET/CT detected all 55 primary tumors in the group, whereas F-18 FDG PET/CT was visually positive for 45 primary tumors (P = 0.002), with a subgroup analysis showing that Ga-68 LNC1007 PET/CT was superior to F-18 FDG PET/CT in diagnosing renal cell carcinomas and hepatocellular carcinomas.
For metastatic tumors, Ga-68 LNC1007 PET/CT also revealed more lesions and had higher uptake for skeletal metastases and peritoneal metastases compared with F-18 FDG PET/CT.
In addition, tracer uptake in primary tumors on Ga-68 LNC1007 PET/CT were higher than those on Ga-68 FAPI-02 PET/CT images. When compared with Ga-68 FAPI-02 PET/CT, Ga-68 LNC1007 PET/CT specifically had a higher detection rate in gastric cancer (100% vs. 83%) and esophagus cancer (100% vs. 60%), the group found.
The results are promising, and additional studies are warranted, the authors wrote.
"Future investigations of Ga-68 LNC1007 must be conducted in a larger population of patients to study the variability of FAP expression and its retention in different cancers, especially the types we found Ga-68 LNC1007 to be superior in," the researchers concluded.
The full article can be found here.