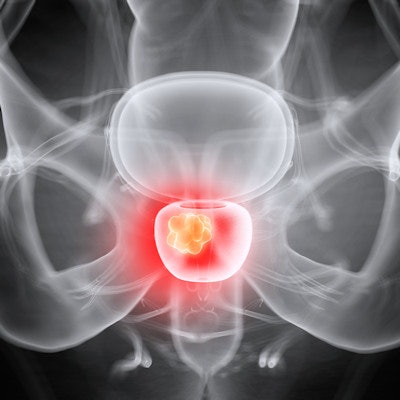 PET/CT and PET/MRI have gone head-to-head for detecting prostate cancer relapse in a review that included 37 clinical studies and 8,709 patients -- with PET/MRI taking a slight lead, according to a team in China.
In the patient-based analysis, PET/CT achieved a detection rate of 70% compared with 73% for PET/MRI, not a significant difference, the researchers found.
"The diagnostic efficacy of Ga-68 PSMA-11 PET/CT appears to be equivalent to that of Ga-68 PSMA-11 PET/MRI in detecting biochemically recurrent prostate cancer," wrote first author Ruizhe Huang, of Changsha Medical University in Changsha, and colleagues. The study was published August 14 in Frontiers in Oncology.
Gallium-68 (Ga-68) prostate-specific membrane antigen (PSMA)-11 is a PET radiotracer designed to visualize tumors based on molecular uptake of the PSMA-11 ligand by cancer cells. The tracer was approved in the U.S. in 2020.
Whether Ga-68 PSMA-11 PET is more effective when used with CT or MRI in hybrid imaging approaches that provide functional anatomical information about tumors in addition to the molecular findings of PET is controversial, the authors stated.
Thus, to elucidate evidence to date, the authors performed a systematic review and analysis of studies published in PubMed, Embase, and Web of Science databases that used the techniques (up until February 2023).
The researchers initially found 5,773 articles and narrowed the field to 37 that satisfied their criteria. The final batch for analysis included 25 articles for Ga-68 PSMA-11 PET/CT and 13 for Ga-68 PSMA-11 PET/MRI, with one study including the use of both.
While the pooled overall detection rates using Ga-68 PSMA-11 PET/CT and Ga-68 PSMA-11 PET/MRI appeared equivalent, differences did emerge based on patient levels of prostate-specific antigen (PSA), a blood biomarker used to diagnose relapse typically when levels are above 0.2 ng/mL or higher.
Ga-68 PSMA-11 PET/CT and PET/MRI positivity rates in a PSA subgroup
PSA levels
PET/CT
PET/MRI
< 0.5 ng/ml
47%
45%
> 0.5 ng/ml
77%
90%
"A significant difference between these two imaging modalities for PSA levels aspect only existed when PSA was higher than 0.5," the group wrote.
This may be because PET/MRI provides more precise and detailed anatomical data compared to PET/CT, particularly in terms of soft tissue contrast, they noted.
Ultimately, both approaches are highly effective at identifying potential prostate cancer recurrence in patients who have already undergone significant treatments. Further research will be required to determine which approach may be best.
"Thus, controversy remains regarding the diagnostic performance of both imaging modalities for biochemical recurrent prostate cancer," Ruizhe and colleagues concluded.
The full article can be found here.