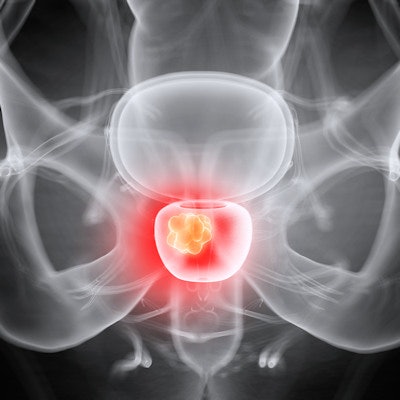 Researchers in China have provided some clarity for clinicians over which prostate-specific membrane antigen (PSMA) radiotracer may be best for PET/CT prostate cancer imaging, according to a study published August 21 in Cancer Imaging.
A group led by Jun Guo, MD, PhD, of Xiyuan Hospital in Beijing, studied pooled results in a meta-analysis of 27 clinical studies and found that F-18 PSMA-1007 and gallium-68 (Ga-68) PSMA may provide different diagnostic value.
"Ga-68 PSMA-PET/CT was slightly higher in the sensitivity of diagnoses, while F-18 PSMA-1007 PET/CT may have higher efficacy in specificity and confirmed positive rate," the group wrote.
Moreover, both PSMA-specific radiotracers outshined F-18 FDG, which has been explored for use in imaging specific phases of the disease based on glucose metabolism in tumors, the researchers noted.
PSMA is a protein expressed on the surface of prostate cancer cells. The discovery of this new target in the early 1990s has enabled researchers to develop PET radiotracers to visualize the tumors.
Since 2020, PSMA-specific radiotracers tracers such as Ga-68 PSMA have been approved, with others in late-stage clinical trials, including F-18 PSMA-1007. F-18 FDG is one of the earliest cancer radiotracers to be used in PET/CT, and it has proven useful in imaging the progression of tumors, the authors explained.
In May last year, the Society of Nuclear Medicine and Molecular Imaging said it considers all PSMA-PET radiotracers for detecting prostate cancer -- whether approved or not -- as equivalent, yet the accuracy of these tracers remains controversial, the authors noted.
To elucidate potential differences in their diagnostic value, the researchers culled all databases ("Chinese and foreign," they noted) and identified a total of 368 studies that included the use of one or more of the three radiotracers for diagnosing primary prostate cancer. Exclusion criteria whittled the number to 28. These studies were clinical trials and included 2,891 patients.
F-18 PSMA-1007 PET/CT was involved in eight papers, F-18 FDG-PET/CT was involved in nine papers, and Ga-68 PSMA-PET/CT was involved in 11. The researchers pooled the data for each radiotracer and compared them.
F-18 FDG
F-18 PSMA-1007
Ga-68 PSMA
Sensitivity
75%
91%
92%
Specificity
64%
88%
73%
Positive likelihood ratios
2.8
6.3
3.6
Ultimately, the findings provide additional evidence for clinicians when selecting PSMA-PET radiotracers for use in prostate cancer imaging, according to the researchers, yet they noted that the results of the study were partially limited by the quality of the studies they culled from the literature. Namely, the literature lacks multicenter large-sample studies, they wrote.
"Due to the limitations of the quality of the included samples and literatures, the above conclusions still should be further validated," the group concluded.
The full article is available here.