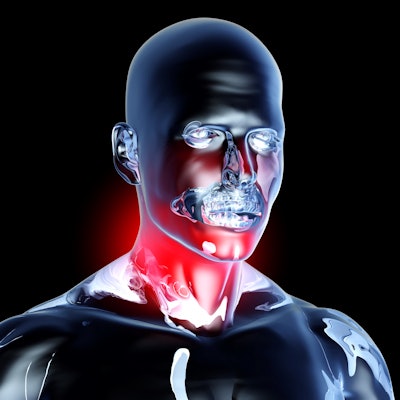 PET/CT scans during annual follow-up visits for patients treated for head and neck squamous cell carcinoma (HNSCC) can lower their risk of death, according to a study published August 1 in JAMA Network Open.
A group led by Jean-Christophe Leclere, MD, of University Hospital of Brest in Brest, France, found that three-year overall survival rates were better in asymptomatic patients who had F-18 FDG-PET/CT scans after treatment compared with conventional chest CT imaging.
"To the best of our knowledge, this is the first series demonstrating a significant survival difference in patients monitored in an intensive follow-up strategy based on F-18 FDG-PET/CT," the authors wrote.
HNSCC is the sixth most common malignant tumor worldwide, with approximately 800,000 new cases annually. These patients have a significant risk of cancer returning to the primary site within the first two years after treatment, with approximately two-thirds of patients experiencing such "locoregional recurrence," the authors explained.
The use of F-18 FDG-PET/CT is currently recommended after treatment if recurrence is clinically suspected, yet its usefulness remains controversial, they noted, due to a debate on its cost-effectiveness and a paucity of data on outcomes.
To address this knowledge gap, the researchers investigated whether follow-up FDG-PET/CT is associated with survival compared with conventional imaging (primarily chest CT) in a large group of patients treated for HNSCC. The main outcome was the overall survival of patients at three years.
The researchers identified 782 adults with histologically proven HNSCC treated with curative intent between January 2006 and December 2019 at three local hospitals. All patents had achieved a complete response on imaging after three to six months of treatment. Of these, 497 patients underwent FDG-PET/CT scans during follow-up and 285 patients underwent chest CT follow-up imaging.
After adjusting for covariates (age, sex, comorbidities, primary location, stage, surgeon, year of treatment, and treatment), an analysis revealed a significant association between F-18 FDG-PET/CT and lower risk of death due to recurrence. Specifically, mean three-year overall survival was better in the PET/CT group (72.5%) than in the conventional follow-up group (64.3%), according to the findings.
"We hypothesize that this difference in survival in our study may be associated with the 12.4% overall detection rate of subclinical recurrence in the PET/CT group," the authors noted.
While the results are promising for the early detection of recurrence in patients, the authors noted that this was a case-control study. Two multicenter randomized prospective trials using FDG-PET in these patients are currently ongoing, with those results expected to establish more definitive evidence, they wrote.
"This case-control study found that use of F-18 FDG-PET/CT as an alternative to annual chest CT in the follow-up of HNSCC was associated with incremental three-year [overall survival] benefit," the group concluded.
The full study is available here.