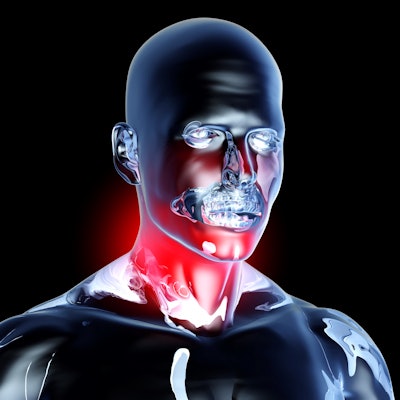 Using a deep-learning algorithm with CT imaging shows promise for diagnosing sarcopenia -- or muscle wasting -- in head and neck cancer patients, researchers have found.
Since the presence of sarcopenia can translate to poor outcomes for patients suffering with the disease, the study results could translate into better care and treatment, according to a team led by Benjamin Kann, MD, of Dana-Farber Brigham Cancer Center in Boston. The findings were published August 10 in JAMA Network Open.
"Sarcopenia is an indicator that the patient is not doing well," Kann said in a statement released by the center. "A real-time tool that tells us when a patient is losing muscle mass would trigger us to intervene and do something supportive to help."
Head and neck cancers tend to be treated with surgery, radiation, and chemotherapy, all of which can have harsh side effects, Kann and colleagues noted. One of these side effects is difficulty drinking and eating during and after treatment, which leads to poor nutrition and muscle wasting. Clinicians assess patients' muscle mass using CT imaging of the abdomen or neck, but diagnosing sarcopenia from these scans demands significant expertise, according to Kann.
"The process is time-consuming and burdensome, so it's not done regularly," he said.
Kann's group investigated the use of deep learning to diagnose sarcopenia from CT imaging data. The team trained the model with clinical records and CT scan information from 420 patients with head and neck cancer, then assessed each patient's muscle mass and determined a skeletal muscle score.
The investigators found that the model was accurate for assessing muscle mass 96.2% of the time, and it completed its assessment of CT scans in 0.15 seconds.
Using deep learning with CT imaging for patients with head and neck cancer could be a game changer, according to Kann and colleagues, who wrote that an "AI-based assessment of sarcopenia could be made frequently throughout treatment, giving physicians a chance to recognize a patient's decline before it reaches a critical point ... [and] that warning sign could trigger an intervention, such as a nutritional consult, supportive medication, or physical therapy."
It could also tailor treatment. For example, patients who are already presenting with sarcopenia might do well with a gentler protocol.
Going forward, Kann's group plans to use the deep learning tool throughout the course of treatment for head and neck cancer patients in a clinical trial setting, in the hopes that they might "learn more about how muscle mass changes during treatment and ... how to use the information to guide treatments and interventions."
The complete study can be found here.