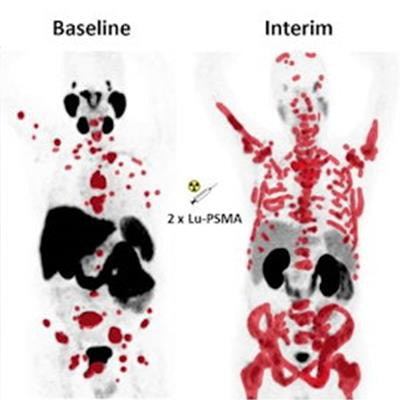 PET/CT imaging with novel radiotracers has emerged over the past several years as a first-line approach for diagnosing and monitoring treatments in patients with prostate cancer, according to an April 16 presentation at ARRS 2023 in Honolulu, HI.
In a session covering changing paradigms in tumor response assessment, Dr. Don Yoo of Brown University in Providence, RI, discussed the evolution of prostate-specific membrane antigen (PSMA)-PET/CT and how it has changed imaging of these patients in his department.
"PSMA-PET has really transformed how imaging is done. Instead of doing CT or MR for regional and distant disease, now we are doing PSMA-PET," he said.
PSMA is a protein expressed on the surface of prostate cancer cells. The discovery of this new target has enabled researchers to develop PET radiotracers to visualize the tumors.
Yoo explained that according to National Comprehensive Cancer Network (NCCN) guidelines, "early" prostate cancer PET tracers -- as in those approved in the U.S. between 2012 and 2016 (these include choline-11, radium-223 chloride, and F-18 fluciclovine) -- are recommended in patients whose disease has relapsed after therapy has failed.
However, since 2020, other tracers such as gallium-68 (Ga-68) PSMA-11 and F-18 DCFPyL (Pylarify, Lantheus Medical Imaging) have been approved. These tracers -- isotopes combined with PSMA ligands that "bind" to the protein on cancer cells -- are more specific and can not only detect cancer in relapsed patients but are also effective for diagnosing the disease initially, Yoo said.
"This has really changed the paradigm for what we use for prostate cancer imaging," he said.
For one, PSMA-PET/CT using these tracers can replace CT, MRI, and bone scans for both regional pelvic imaging and metastatic disease, Yoo said. According to the latest NCCN guidelines, CT and MRI in fact are no longer considered prerequisites to PSMA-PET, which is "an equally effective, if not more effective front-line imaging tool for these patients," he said.
These radiotracers are now at the forefront for assessing prostate tumor response in patients undergoing lutetium-177 (Lu-177) PSMA-617 (Pluvicto, Novartis), the first of a new class of "theranostic" drugs approved for the disease last year, Yoo said.
One telling point is that in addition to the drug approval, the U.S. Food and Drug Administration simultaneously approved a kit (Locametz) for preparing injections of gallium-68 (Ga-68) PSMA for imaging these patients, he added.
Brief history
The potential impact of PSMA-PET imaging in prostate cancer patients first became apparent at the Society for Nuclear Medicine and Molecular Imaging (SNMMI) annual meeting in 2019, Yoo said. At that meeting, a group presented the first evidence that showed gallium-68 (Ga-68) PSMA-PET scans could not only identify patients eligible for Lu-177 PSMA-617 treatment but also predict their chances of overall survival.
The next step came in 2021, when clinicians in Europe developed a qualitative consensus statement on tumor response using PSMA-PET that includes the following categories:
Complete: Disappearance of all lesions with tracer uptake
Partial: Reduction of uptake and tumor PET volume by > 30%
Stable: Change of uptake and tumor PET volume ± < 30% without evidence of new lesions
Progression: Appearance of > two new lesions or increase of uptake or tumor PET volume ≥ 30%
Then, in 2022, researchers developed a novel framework called response evaluation criteria in prostate-specific membrane antigen (RECIP). In their study proposing the framework, the group verified that RECIP 1.0 was a better predictor of survival outcomes in patients receiving Lu-177 PSMA-617 than standard prostate-specific antigen (PSA) blood tests.
Both the consensus statement and RECIP 1.0 approach are similar, with perhaps more patients being classified with stable disease in patients evaluated using RECIP 1.0, Yoo said.
Future directions
Currently, researchers are determining how to improve and combine both approaches for determining tumor response by developing standardized quantitative PET/CT data criteria that can be used with them. For instance, Yoo cited a study published earlier this year in which a group evaluated the prognostic value of PSMA-PET whole-body tumor volume as a semiautomatic method in patients receiving Lu-177 PSMA-617.
The study authors found that tumor volume effectively predicted overall patient survival when used with both Ga-68 PSMA-11 and F-18 PSMA-1007 PET/CT scans. They also concluded that subsequent integration of tumor volume into the consensus statement and RECIP 1.0 provided equally high prognostic value.
Yet these are still early days in the field and additional research is underway to continue to standardize tumor assessment in these patients, Yoo said.
"The prognostic role of interim PSMA-PET/CT can really be effective not only I think for Lutetium-177 based PSMA therapy, but other traditional therapies as well," he concluded.