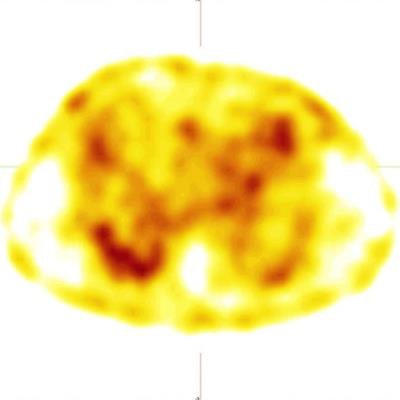 Iranian nuclear medicine physicians diagnosed COVID-19 in an asymptomatic patient undergoing technetium-99m (Tc-99m) SPECT/CT imaging for prostate cancer, according to a March 15 report in the Egyptian Journal of Radiology and Nuclear Medicine.
This is the first such reported case of pulmonary uptake of the radiotracer Tc-99m prostate-specific membrane antigen (PSMA), the authors wrote.
Dr. Forough Kalantari, an assistant professor of nuclear medicine at the University of Medical Sciences in Tehran, and colleagues, wrote that a 70-year-old asymptomatic patient with biopsy-proven prostate cancer and a prostate-specific antigen (PSA) level of 36 ng/ml underwent Tc-99m PSMA-SPECT/CT imaging for initial treatment planning.
Whole-body images using a hybrid SPECT/CT scanner (Symbia Intevo, Siemens Healthineers) four hours after radiotracer injection showed heterogeneous uptake of Tc-99m PSMA in prostate lobes consistent with previously known malignancy. Yet the researchers also observed an incidental finding: multifocal, bilateral, and peripheral ground-glass opacities in lungs with mild tracer uptake.
"Although the patient had no respiratory symptoms, RT-PCR was performed and the result was positive," Kalantari wrote.
She noted that previous cases of incidental detection of COVID-19-associated pneumonia have been reported in studies using gallium-68 (Ga-68) PSMA-PET/CT, F-18 FDG-PET/CT, and thyroid scintigraphy, but that this is the first case of COVID-19 detected in a patient by Tc-99m PSMA-SPECT/CT imaging.
The scan was performed as part of a trial ultimately comparing two imaging approaches -- the use of Ga-68 PSMA-PET/CT or Tc-99m SPECT/CT -- for detecting metastatic disease in prostate cancer patients, Kalantari added.
"As many COVID-19 patients are asymptomatic, it is necessary for nuclear medicine departments to review lung window filed in hybrid imaging even in unrelated pathologies," she concluded.