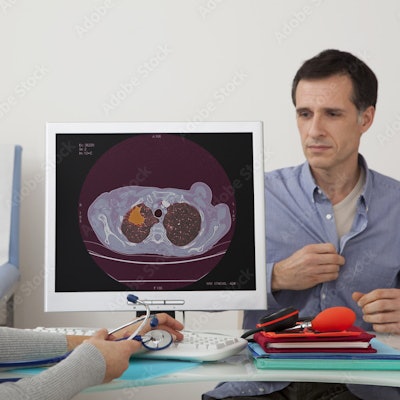 Low-dose CT (LDCT) for lung cancer screening has been shown to be effective in reducing mortality rates. But despite a recent broadening of the eligibility pool, uptake of this preventive service has been low, according to a presentation at the American Roentgen Ray Society (ARRS) meeting in Honolulu.
Lung cancer is the number one cause of death in men and women in the U.S., but only a small percentage of eligible individuals are undergoing screening, said presenter Dr. Debra Dyer of National Jewish Health in Denver, CO.
"Only about 5.8% of individuals eligible for lung cancer screening are receiving it," she said. "Some states are doing better than that, some not so much."
Dyer began her talk with some sobering statistics:
In 2021, there were almost 236,000 new cases and almost 132,000 deaths -- "more than breast, colon, and prostate cancer combined," she said.
Median age at death is 72, and most people diagnosed with lung cancer have advanced-stage disease, with a five-year survival rate of just 22%. This is improving with newer targeted therapies and immune therapies," she said.
Most lung cancers (80% to 85%) are non-small cell (NSCLC).
The irony is that lung cancer screening finds cancers earlier -- and thus can shift the disease stage to less advanced disease, Dyer noted.
"The real 'meat' of lung cancer screening is the stage shift," she said. "In both the NLST and the NELSON studies we can see that, with screening, the number of stage I lung cancers is very high compared to the number of stage IV. And we see the reverse in the population that wasn't screened."
Number of stage 1A and stage IV lung cancers detected with and without LDCT screening
Stage
National Lung Cancer Screening Trial
NELSON trial
1A
Screen detected
52%
47%
Non-screen detected
23%
7%
IV
Screen detected
13%
6%
Non-screen detected
36%
52%
(Data from a study conducted by a team led by Dr. Jacob Sands of Dana Farber Institute in Boston and published in the Journal of Thoracic Oncology in 2021.)
Dyer also noted that patients with commercial insurance aren't undergoing lung cancer screening as much as Medicare and Medicare Advantage patients, and that screening rates are lowest among women and people living in rural communities. Additionally, Black individuals are screened at a rate of 2.2%, compared with 3.7% of their white counterparts.
"Whites are screened at about twice the rate of other patients," she said.
She also reported that 91% of patients screened between 2015 and 2019 met the most current U.S. Preventive Services Task Force (USPSTF) eligibility recommendations, but only 22.3% of these underwent annual screening.
Dyer did highlight some positive results regarding lung cancer screening that was presented at the 2022 RSNA meeting: 20-year data from the I-ELCAP study found that the 10-year lung cancer-specific survival rate for lung cancer among patients screened annually for the disease with LDCT is 80% and the 20-year rate is 80.5%.
Finally, Dyer addressed the question of where lung cancer screening happens, noting that a number of commercial insurers are prohibiting their members from obtaining the service at hospital-based facilities, instead directing patients to lower-cost imaging centers. But this may impede access, she said.
"The concern is that [this action] is significantly limiting access, since more than 50% of lung cancer screening is performed at hospital-based imaging facilities," she said. "There's also a concern about quality, as there is no requirement from the insurance companies for an imaging center to have a lung cancer screening program infrastructure ... the American College of Radiology's steering committee on lung cancer screening has met with UnitedHealthcare to try to discourage them from implementing this policy."