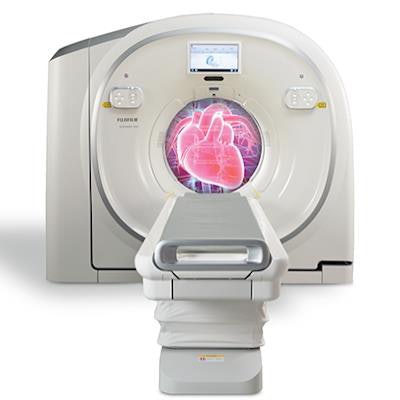 Fujifilm Healthcare Americas plans to launch its Scenaria View Focus Edition CT scanner --which now includes a cardiac motion correction feature -- for the first time in the U.S. at the upcoming RSNA meeting in Chicago.
The new Focus Edition of the 64/128 scanner is designed for both routine and advanced clinical use, and can perform CT angiography, interventional CT, and dual-energy exams, Fujifilm said. It features the company's Intelli IPV Vision modeled iterative reconstruction technology -- which can help reduce radiation dose by up to 83%, according to the firm -- and a metal artifact noise reduction tool called HiMar Plus.
But the key feature Fujifilm plans to highlight is Cardio StillShot for cardiac motion correction for the coronary arteries, the entire heart, and the valves.
The heart's rhythm can affect CT image quality, Fujifilm said: Slower heart rates (between 60 and 75 beats per minute) allow for enough time to take images between beats, but higher rates (above 75 beats per minute) make it difficult to do this and result in low-quality images.
To address this problem, Cardio StillShot simultaneously acquires two data sets during the scan that are then compared to each other to detect and correct motion; the final images have a temporal resolution of 28 milliseconds, compared with 175 milliseconds without the use of CardioShot, which represents a six-fold improvement, according to Fujifilm. CardioShot allows for more exams to be performed with prospective gating versus retrospective gating, since it reduces patient radiation exposure, the company said.
"Fujifilm's Cardio StillShot feature helps clinicians capture clear images of the heart -- even on the most challenging heart rhythms," the company said in a statement released November 8.
Fujifilm received clearance from the U.S. Food and Drug Administration for Scenaria View Focus Edition in April.