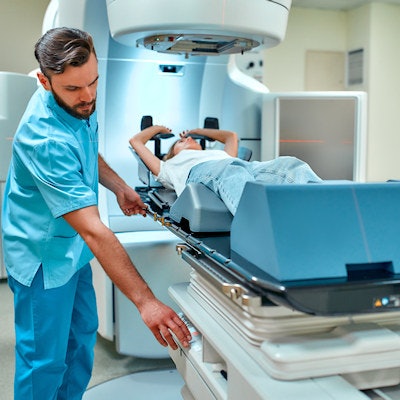 Thoracic radiation therapy increases the risk of heart disease, heart attack, or stroke in lung cancer patients who have high levels of coronary artery calcium (CAC) on chest CT, according to researchers from Washington University in St. Louis, MO.
The findings were presented February 11 at the American College of Cardiology's (ACC) Advancing the Cardiovascular Care of the Oncology Patient virtual meeting, and they underscore the importance of assessing cardiovascular disease risk in lung cancer patients, said study lead author Dr. Matthew Lui in a statement released by the college.
"Recognizing patients with a high burden of coronary artery calcium allows for the implementation of risk modification therapies to reduce cardiovascular risk, such as aspirin and statin therapy," Lui said. "In addition, recognizing cardiovascular risk allows the care team to make a better assessment of the patient's overall prognosis, which can guide therapy choice and goals of care discussions."
Radiation therapy is a common and effective treatment for lung cancer, but it has been associated with heart or vascular problems, both during treatment and later in the lives of patients, Lui and colleagues noted. The team sought to evaluate this risk via a study that included 155 patients with non-small cell lung cancer who underwent chest CT between 2001 and 2014 to evaluate for coronary artery calcium before proceeding to treatment. The study cohort included 41 patients with no CAC; 45 with mild levels; 39 with moderate levels; and 30 with severe levels. There were three major cardiovascular adverse events in the no CAC group (7.3%), seven in the mild group (15.6%), five in the moderate group (16.7%), and five in the severe group (16.7%).
After adjusting data for patient age and sex, the team found the following:
Compared with patients with no CAC, patients with mild levels of CAC had an 11.7 times higher risk for major adverse cardiovascular events.
Compared with patients with no CAC, patients with severe levels of CAC had a 21.4 times higher risk for major adverse cardiovascular events.
Patients with moderate levels of CAC showed a trend toward increased risk of heart attack or stroke.
The study results suggest that assessing the CAC burden of lung cancer patients could help better stratify their heart attack or stroke risk, Lui said in the ACC statement.
"We believe further study evaluating the utility of coronary artery calcium burden in determining cardiovascular risk in other cancer populations is warranted and can help validate coronary artery calcium burden across different populations," he said.