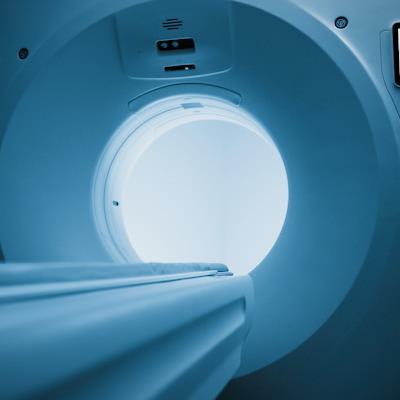 GE Healthcare is launching a new CT scanner called Revolution Ascend that's designed to deliver better workflow through artificial intelligence (AI) technology.
Ascend sports a 75-cm gantry with 40 mm of detector coverage per gantry rotation. The system also features a lower table position to better accommodate trauma patients and individuals with high body mass index.
More important, however, is the suite of AI-based applications called Effortless Workflow that is available on the scanner. The software is able to personalize scans for patients with less setup effort from radiologic technologists, according to the company.
Technologists working with Revolution Ascend use a barcode reader to scan the patient's chart or tag -- this pulls up the patient's relevant information and suggests the most appropriate protocols. The technologist can then use the scanner's autopositioning technology to generate a 3D model of the patient's body, while a deep-learning algorithm determines the proper table elevation and cradle movements required to set up the scan range in the isocenter of the bore.
During scanning, a tool in the system's Clarity operator environment provides the optimal settings for scan range, radiation dose, and image quality for each patient. GE believes that the tools available with Revolution Ascend can position patients with 94% accuracy, suggest protocols with 90% accuracy, and lead to a 66% reduction in clicks.
Data are reconstructed with GE's TrueFidelity reconstruction engine across a range of clinical applications, including head, whole-body, and cardiovascular -- all at a low radiation dose, the company said.
GE is also offering the Effortless Workflow applications found on Revolution Ascend as an upgrade to existing GE CT scanners in the field, or through a license to Smart Subscription, which can provide the latest GE software across a hospital's fleet of CT scanners.