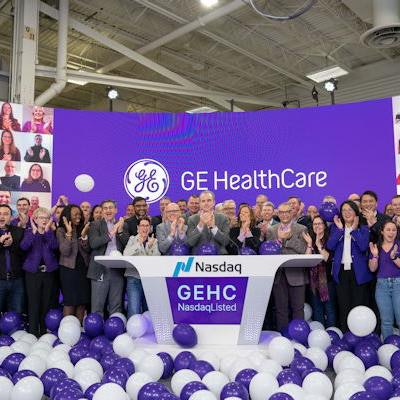 Now officially a standalone, publicly traded company listed on the Nasdaq exchange, GE HealthCare aims to both benefit from its corporate legacy and exploit its new agility to pursue its strategy of facilitating precision healthcare.
GE HealthCare celebrated its new beginning on January 4 by remotely ringing the NASDAQ opening bell from its manufacturing facility in Waukesha, WI. With its spinoff from GE now finally complete, the company is focusing on accelerating growth through product leadership, commercial execution, and investments in the markets in which it participates, according to Catherine Estrampes, president and CEO of GE HealthCare U.S. and Canada.
"This new standalone company allows us to focus with more accountability and more focus," Estrampes told AuntMinnie.com.
She noted that GE HealthCare has a strong balance sheet and generates significant free cash flow, enabling flexibility to invest in both organic and inorganic growth.
In addition, "We are focused on building on the legacy of the GE company from an innovation perspective and a culture perspective, but also adopting a more agile, purpose-driven culture for faster decision making, greater integration into the healthcare ecosystem, and frankly, a greater ability to take calculated risks that maybe would not have been as easy to do while being part of a big conglomerate," Estrampes said.
The company will have four individual segments: Imaging (CT, MRI, molecular imaging, x-ray, women's imaging, and image-guided therapy), Ultrasound, Patient Care Solutions (patient monitoring systems, anesthesiology, diagnostic cardiology, etc.), and Pharmaceutical Diagnostics (contrast media and radiopharmaceuticals).
In Imaging, the COVID-19 pandemic has created new challenges, with the company's customers dealing with personnel shortages and burnout, Estrampes noted.
"In the imaging world, the focus is going to be on continued investment in innovation from both a digitization and AI perspective," Estrampes said.
She highlighted AIR Recon DL -- the company's deep learning-based MR image reconstruction software -- as an example of this type of initiative. Photon-counting CT is also a focus for the vendor.
"The goal there is to really greatly enhance imaging capabilities so that we can help clinicians improve patient outcomes in oncology, in cardiology, in pediatrics, and neurology," she said.
The embedding of AI software is also a point of emphasis in GE HealthCare's Ultrasound segment.
"All of our new [ultrasound] product introductions have AI-powered applications to allow automated measurements, as an example," she said.
Estrampes also highlighted efforts in compact ultrasound technology, such as the firm's Vscan Air wireless handheld systems.
Meanwhile, GE HealthCare's Pharmaceutical Diagnostics segment is linked to precision care, especially in oncology, Estrampes said.
"[A] large investment [is being made] in the future development of new tracers that will be extremely useful in oncology," she said. "So that's really the main area."
GE HealthCare is now trading on the Nasdaq exchange under the ticker symbol "GEHC."