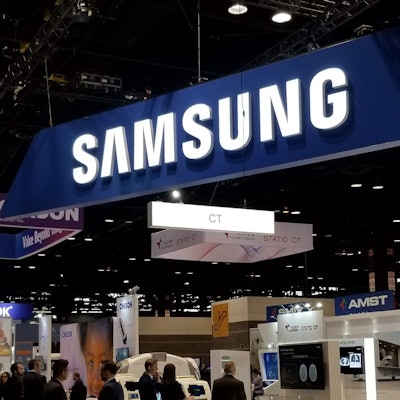 Samsung will highlight new features of its artificial intelligence (AI) products in ultrasound, digital radiography, and mobile CT at the upcoming RSNA meeting.
The company plans to showcase its V7 ultrasound system that includes new software called HeartAssist, which automatically finds cross sections of the heart and measures different points needed for accurate diagnoses.
Alongside the V7 ultrasound system, the company's new miniER7 endocavity transducer will be on display. With a radius size of 7 mm, which is 3 mm smaller than the existing probe, the new probe is intended to ease the discomfort some patients experience during prostate ultrasound scanning, Samsung said.
In digital radiography, Samsung will showcase its AccE GC85A Vision premium ceiling digital radiography system with Vision Assist, which reduces operation time, decreases retake errors, and monitors patients through Vision Live, a live camera in the tube head unit.
The company will also display a recently released detector, AccE Glass-Free.
In mobile CT, Samsung will feature the OmniTom Elite with photon-counting detector technology and BodyTom 64. The OmniTom Elite provides versatile, real-time mobile imaging to administer point-of-care CT to critical patients without the need to transport them to a separate imaging department, Samsung said.
Lastly, the company will highlight eco-friendly packages as a part of its environmental, social, and governance management. For instance, expanded polyethylene (EPE) foams that were previously used in its ultrasound packages have been replaced by recycled papers, resulting in the reduction of 15 tons of EPE foams in 2022.