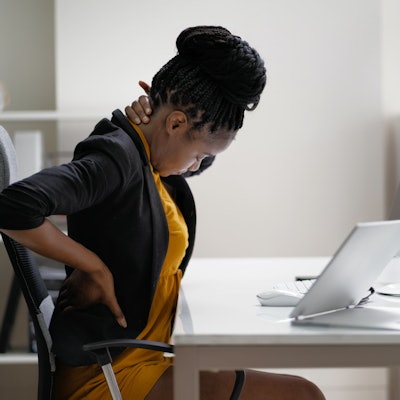 More than 75% of radiologists report that they experience musculoskeletal discomfort from using workstations, but there are at least eight ways to mitigate the problem, according to a survey published December 29 in Academic Radiology.
Awareness of basic ergonomic parameters -- and their implementation -- goes a long way toward making hours spent at the workstation more comfortable, wrote a team led by Dr. Helena Bentley of the University of British Columbia in Vancouver.
"Knowledge of ergonomics is associated with decreased musculoskeletal discomfort and ... those in the radiology workforce with greater self-reported knowledge of ergonomics have a decreased likelihood of musculoskeletal discomfort," they wrote.
Ergonomics is an attempt to ease wear and tear on the body in the workplace, but not much research has been conducted to assess ergonomics in radiology settings, Bentley and colleagues explained. To address this knowledge gap, the investigators conducted a questionnaire study that included 191 radiologists and radiology residents who were members of the Canadian Association of Radiologists; most (61%) worked in academic settings and 75.9% were staff radiologists. The survey assessed participants' experience of radiology workstation ergonomics and musculoskeletal discomfort.
The researchers found that 78.5% of study participants experience musculoskeletal discomfort from use of radiology workstation, and 92.7% of these stated that this discomfort affected their productivity. Common causes of the discomfort included not having the top of the monitor at eye level when seated and not having the wrists straight and flat when using the mouse.
There are at least eight ergonomics factors that can help mitigate musculoskeletal discomfort at the radiology workstation, Bentley and colleagues explained:
Maintain relaxed shoulders and arms.
Arrange the monitor an arm's length away, with the top of the screen at eye level.
Have a chair with lumbar support.
Ensure that the full length of the thighs is supported by the seat.
Have the back of your knee three finger widths from the edge of the chair.
Arrange hands shoulder-width and wrists flat.
Hold elbows at sides and at 90 degrees.
Place feet flat on the floor.
As the volume of studies radiologists must read in a day continues to increase, addressing workstation ergonomics is even more important, according to Bentley and colleagues.
"Advocacy is needed to ensure appropriate knowledge of ergonomics and awareness of the radiology workforce's predisposition to experience musculoskeletal discomfort," they concluded. "There is great opportunity to improve the wellness and productivity of the radiology workforce through addressing radiology workstation ergonomics."