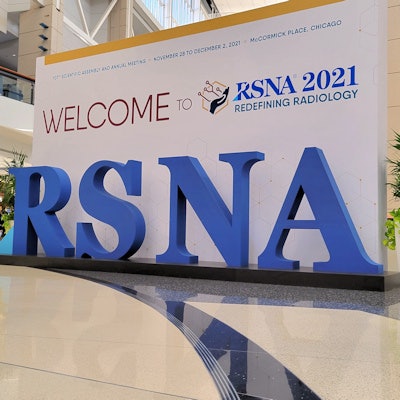 Providing patients with access to their radiology reports and images on online portals typically doesn't have an impact on the workflow of radiologists, according to research presented Sunday at RSNA 2021 in Chicago.
Researchers from the University of California, San Francisco (UCSF), the Mayo Clinic, and Duke Medicine found that over 14% of patients actually viewed their images on their online portals over a six-month period. And most radiologists weren't contacted by patients at all for imaging-related questions.
"These results highlight that our patients are tech-savvy, active, and informed consumers of healthcare, and per the radiologists experience, most of us felt neutral about it and only a minority were approached by patients over image-related care," said presenter Dr. Hailey Choi of UCSF.
In their study, the researchers sought to determine how often patients actually access their radiology images through the online portal and to understand how this patient image access affected radiologist workflows.
The study involved three academic hospitals in the U.S. with varying levels of patient image access on patient portals. The first institution shared all radiology and point-of-care imaging with patients on the patient portal, except for exams that could indicate pregnancy in teens. The second hospital shared all radiographs and breast imaging, while the third institution shared all radiology, point-of-care, and endoscopic imaging.
After reviewing data for the portals at all three institutions, the researchers found that over 1.6 million radiology exams were available over the six-month period between September 2020 and February of 2021. Of these, 14.2% were viewed by patients.
In the second part of the study, the researchers sent an anonymized survey to all trainee and faculty radiologists. Of the 254 radiologists who responded to the anonymized survey, 76% reported that patient access had no impact on their role as a radiologist and 9.3% indicated that it had a positive impact. The remaining 11.8% said it had a negative impact.
Choi noted that free-text comments in the surveys that highlighted a positive impact from online patient image pointed to benefits such as having direct communication with patients, patient-directed follow up of findings, and increased patient understanding for interventional procedures. Responses that included negative comments focused on having too many phone calls or emails from patients, especially related to nonrelevant or minor findings, Other comments noted increased patient confusion and stress, particularly for small errors such as typos and dictation errors in the reports.
The researchers found that 63% of radiologists had never been approached yet by a patient for imaging-related concerns. The 86 radiologists who were contacted by patients were typically contacted infrequently, as shown below:
Once or twice: 40
Three to four times a year: 40
Three to four times a month: 4
Three to four times a month: 1
Of the 147 free-text comments in the surveys, 48.5% believed that patient access was a positive step towards transparent medicine. However, 30.6% reflected concern about patient confusion, misunderstanding, and anxiety.
A number of responses discussed the need for minor workflow adjustments involving annotations and clearer wording, as well as deciding how to report benign incidental findings, Choi said.
"We believe our work provides valuable insight and highlights some need for future workflow modifications and patient-directed tools," she said.